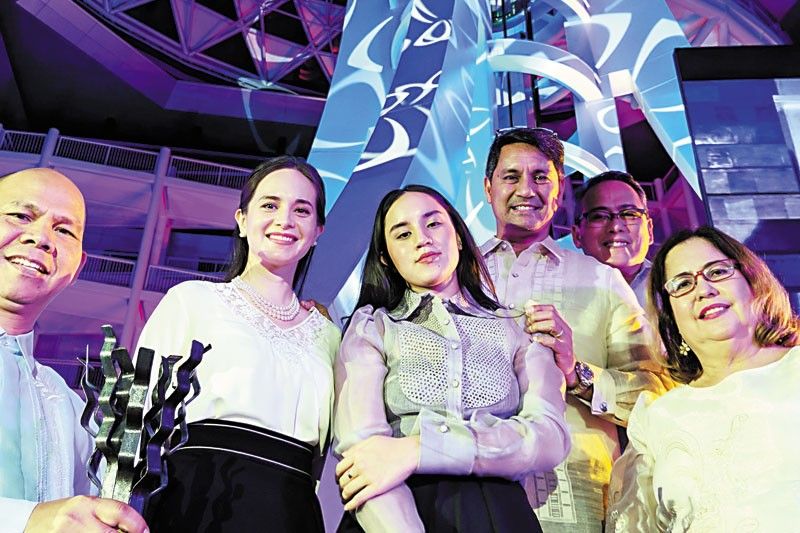 Ormoc Mayor Richard Gomez poses for a photo with his wife Rep. Lucy Torres-Gomez and daughter Juliana after receiving the Climate Leadership award on Monday. Also in photo are Liga ng mga Barangay president Esteban Laurente, Lalaine Marcos and Councilor Goito Yrastorza.
Ormoc receives Climate Leadership award
(The Philippine Star) - November 9, 2018 - 12:00am
MANILA, Philippines — Mayor Richard Gomez of Ormoc, Leyte was among the "new Filipino climate heroes" honored during the Climate Reality Leadership Awards held at the National Museum of Natural History on Monday night.
The city government of Ormoc received the Allen S. Quimpo Climate Leadership for Governance Memorial Award for advancing climate action and promoting renewable energy.
In his speech, Gomez said the awarding ceremony, which coincides with the commemoration of the flashflood in Ormoc that claimed the lives of more than 5,000 people, was a "validation of all the efforts we do from our corner of the world to help save our environment."
Gomez joined other local government executives in signifying their commitment against the establishment of coal-powered plants in their localities.
"For as long as I am mayor of Ormoc, there will be no coal-fired power plant in our city," Gomez said.
He said Ormoc, which hosts the world's second largest geothermal steam field, is one of the few places in the world considered as "carbon negative."
Gomez also cited the environmental programs he initiated in Ormoc, including the No Plastics Day, climate resilient farming and rainwater harvesting facilities at new buildings and houses.
"The climate change problem is so big, but we must go home tonight knowing that there is no such thing as too big or too small because every effort counts," he said.