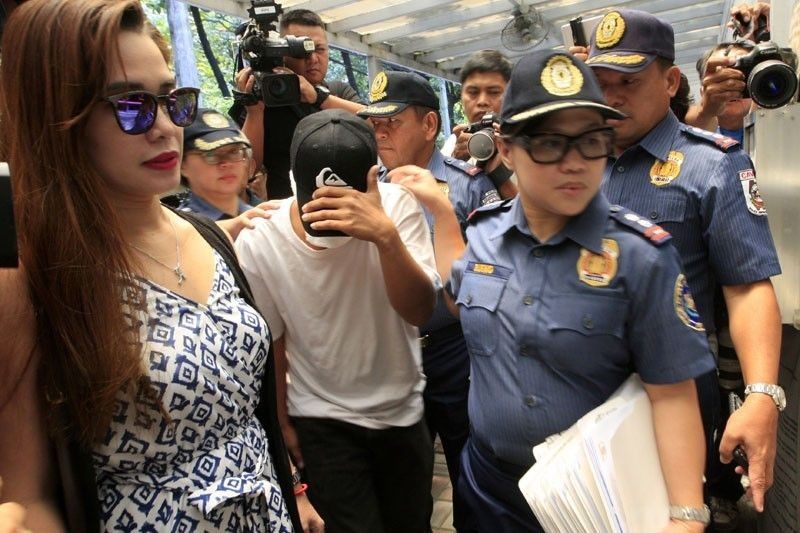 Gemma Lubigan (shades) wife of Trece Martires City, Cavite Vice Mayor Alexander Lubigan accompanied by the lone witness ( wearing a white t-shirt) arrive at the Department of Justice in Manila to file two counts of murder and a frustrated murder against Trece Martires City Mayor Melandres De Sagun.]
Edd Gumban, file
Lubigan widow says insinuation she had hand in husband's slay 'laughable'
(Philstar.com) - November 5, 2018 - 4:27pm
MANILA, Philippines — The widow of Trece Martires Vice Mayor Alexander Lubigan on Monday dismissed insinuations that she has a hand in the killing of her husband as "laughable."
Gemma Lubigan submitted her Reply-Affidavit before state prosecutors on Monday. She waved off Trece Martires Mayor Melandres de Sagun's insinuation that she may have been involved in the killing of Alexander, in a bid for city hall.
Police earlier said that Alexander was killed after announcing that he would run in the elections.
Mayor claims widow linked to killing
De Sagun, sued as a respondent in the murder case, said in his counter-affidavit filed earlier: "And how convenient it is that when the fateful event happened, the better half of the vice mayor was opportunely left at the gym because allegedly she was not yet done with her routine. Was she forewarned that something will happen?"
But Gemma, in her reply, said: "The insinuation that I was responsible for my husband's death is laughable at best."
She also asked state prosecutors' to junk the respondents' defense "for bearing nothing more but self-serving claims, bare denials and outrageous lies."
De Sagun's defense that he has no motive to have Alexander killed "must fail," as it is an "outrageous lie."
She pointed out that the death of her husband "eliminated the top-seeded mayoralty candidate."
"The rise of popularity and public clamor for the late vice mayor served as a threat to the power held so long by the De Sagun clan," she also said, adding that Alexander's death "strengthened [the de Sagun family's] position to the top post of the city of Trece Martires."
"Effectively removing an opponent for next year's elections is a clear motive to slay my husband," Gemma added.
Lubigan was killed by an unidentified gunman who shot at the vice mayor's Toyota Hilux along Trece Martires-Indang road on July 8.
Lubigan's death came days after the murders of Tanauan City, Batangas Mayor Antonio Halili and General Tinio, Nueva Ecija Mayor Ferdinand Bote. — Kristine Joy Patag