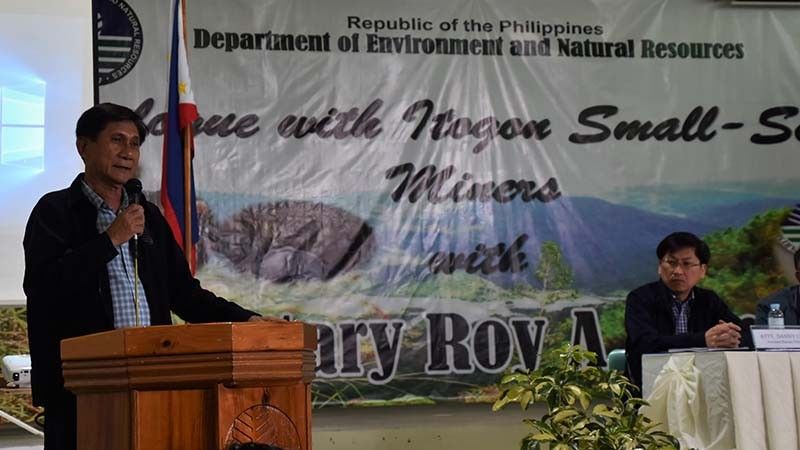 Environment Secretary Roy Cimatu holds a dialogue with residents of Itogon, Benguet.
Mines and Geosciences Bureau-Cordillera Administrative Region website
Decision on Itogon mining up to provincial panel, DENR says
BENGUET, Philippines — The Environment department has given the Benguet provincial mining regulatory board the authority to decide whether mine tunnels, stockpiled mineral ores and mineral processing plants in Itogon will be reopened.
The decision on what to do with adits and processing plants closed and/or cordoned off, and stockpile of mineral ore earlier inventoried by National Task Force – Mining Challenge 'Operation Itogon' Task Force Itogon shall be decided by the Provincial Mining Regulatory Board.
The adits and processing plants shall remain closed and shall not be utilized, and the stockpile of mineral ore shall not be processed and disposed unless allowed by the board.
According to the Mining and Geosciences Bureau in the Cordillera Administrative Region, "the board agreed to grant temporary permits for the operation of ball mills and sluicing activities only."
It also said that an advisory has been issued for the guidelines in the issuance of special permits to process ore stockpiles.
Environment Secretary Roy Cimatu on September 17 ordered a stop to all illegal small-scale mining activities in the Cordillera Administrative Region in response to a landslide that killed dozens in Itogon town when Typhoon Ompong hit the region.
The stoppage order was meant to prevent damage to property and loss of lives, especially in small-scale mining communities.
The Department of the Environment and Natural Resources said the stoppage order on all illegal small-scale mining activities remains in effect. These include extraction, mineral processing and gold panning.
Any small-scale mining conducted outside a declared "minahang bayan" is considered illegal.

Cimatu held a dialogue on October 17 with small-scale miners of Itogon and reiterated the stoppage order while vowing that the processing of the application for minahang bayan in Itogon is underway.
According to the Benguet Federation of Small-Scale Miners, around 20,000 in the province are engaged in the trade.