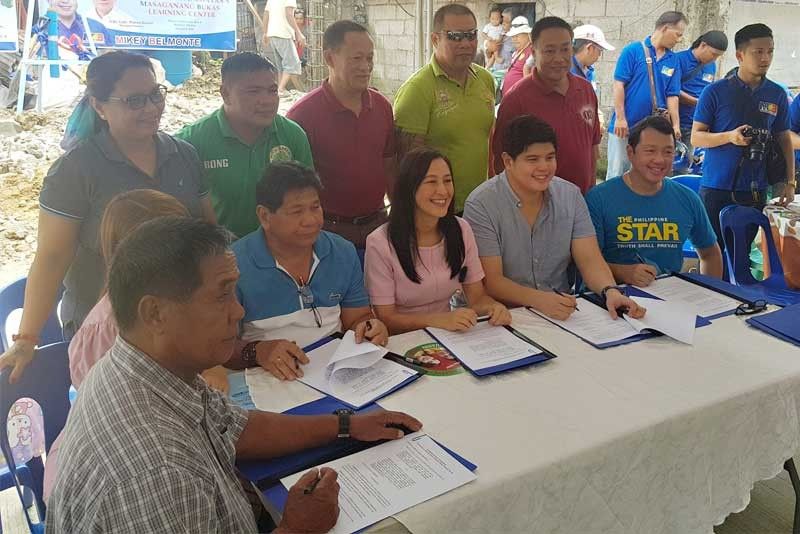 Quezon City Vice Mayor Joy Belmonte (fourth from left, seated) leads the signing of a memorandum of agreement that preceded the groundbreaking ceremony for the Masaganang Bukas Learning Center at Empire Subdivision in Barangay Payatas on Friday. Others at the ceremony are (from left, seated) Sankahille Homeowners Association president Rodel Vergara, barangay chairman Manny Guarin, civic leader and Galing ng Bayan Foundation president Mikey Belmonte and Philippine STAR president and CEO Miguel Belmonte. Also present were barangay councilors Ma. Fe Guarin, Bong Bernardo, Noy Pulmones, Obet Arca and Joseph Galacgac.
Masaganang Bukas Learning Centers break ground
MANILA, Philippines — Joining hands with Galing ng Bayan Foundation, The Philippine Star's social arm, Operation Damayan, broke ground on two learning centers in Payatas and Bagong Silangan in Quezon City on Friday.
Vice Mayor Joy Belmonte led the event as guest of honor.
The soon-to-rise Masaganang Bukas Learning Centers fulfill the aspiration of residents of Quezon City's second district for daycare facilities that their children could attend in their formative years.
In prior consultations conducted in the district by Galing ng Bayan Foundation headed by civic leader Mikey Belmonte, it was noted that existing daycare centers were insufficient to accommodate the number of children who wanted to sign up.
As a result, daycare centers have to cram as many as 50 to 60 students into morning and afternoon classes – or double the ideal size of a class – just to accommodate the eager learners.
As the son of Philippine STAR president and CEO Miguel Belmonte and recognizing the importance of early childhood development, Mikey knew that Operation Damayan's projects were focused on young children.
For the longest time, Damayan, which supports identified communities in the provision of services and facilities to residents, has been providing medical assistance to sick children in conjunction with the Philippine General Hospital in Manila.
It has built close to 70 classrooms throughout the country, in as far north as Mountain Province and as far south as Compostela Valley.
Damayan will also be rehabilitating a public school in Baguio that was damaged by Typhoon Ompong.
The young Belmonte then presented the findings and asked for assistance to address the district's lack of daycare centers.
"I cannot emphasize enough the value of early childhood development in securing the future of our community. Based on studies, the most formative years in a person's life are between the ages of five to 10 years old. The seeds of childhood must be properly nurtured in order for one's adulthood to be fruitful, which is why I prioritized these daycare centers," he said.
Together with barangay leaders and homeowner associations, the Galing ng Bayan Foundation and Operation Damayan identified five sites for the construction of Masaganang Bukas Learning Centers.
In the future, Galing ng Bayan is looking to expand the daycare facilities to also host multi-purpose centers for livelihood training for housewives, single parents, senior citizens, PWDs and youth; or for barangay activities.
Entrepreneurship is one of the cornerstone advocacies of Galing ng Bayan Foundation.