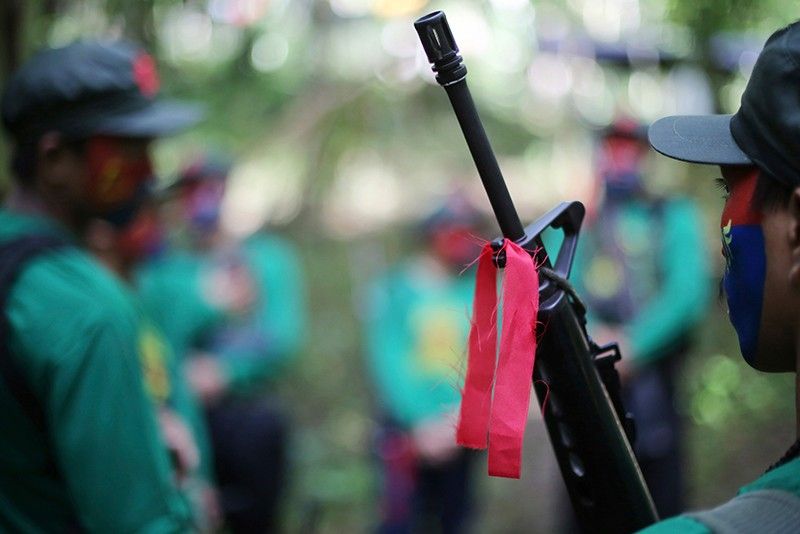 The victims were identified as Police Officer 3 Gerry Quilecol and PO1 Edison Aguirre.
AP/Aaron Favila, File
Reds raid Northern Samar police station
NORTHERN SAMAR, Philippines — Two police officers were wounded as around 100 suspected New People's Army (NPA) rebels armed with high-powered firearms, including grenade launchers, raided a police station in Lapinig town in this province yesterday.
The victims were identified as Police Officer 3 Gerry Quilecol and PO1 Edison Aguirre.
Inspector Noli Montebon, Lapinig police chief, and PO2 Mark Mejedo, who were earlier reported missing, were found unhurt.
The seven police officers on duty escaped after a 15-minute gunfight when they ran out of bullets.
A report from the Eastern Visayas police said the rebels carted away nine firearms, an undetermined amount of cash, cell phones, laptop computers and other valuables.
Senior Superintendent Geraldo Avengoza, Eastern Visayas police spokesman, said the police in the region was placed on alert following the attack.
E. Visayas cop chief relieved
Upon the recommendation of the Philippine National Police oversight committee, PNP chief Director General Oscar Albayalde relieved Chief Superintendent Mariel Magaway as Eastern Visayas police director following the incident.
Chief Superintendent Dionardo Carlos, Aviation Security Group director, was named acting regional police director.
Senior Superintendent Romeo Campomanes, Northern Samar police director, Montebon and 21 other police officers were also relieved from their posts.
An investigation into the incident, including possible lapses in security, is ongoing.
2 soldiers killed
In Isabela, two soldiers were killed while three others were wounded in an encounter with NPA rebels in Jones town also yesterday.
The fatalities were identified only as Sgt. Bakiwan and Pfc. Mayo. A certain Sgt. Mangawit, Pfc. Pablo and Lt. Joshua Bario were wounded.
The soldiers were patroling Barangay Dicamay 2 at around 4:47 a.m. when the clash occurred.
In Masbate, soldiers overran an abandoned NPA camp in Barangay Alta Vista, San Fernando on Thursday.
Various types of ammunition, a laptop, a handheld radio, nine cell phones, an improvised explosive device, food items and personal belongings were recovered from the camp, according to a police report. – With Emmanuel Tupas, Raymund Catindig, Celso Amo, Artemio Dumlao