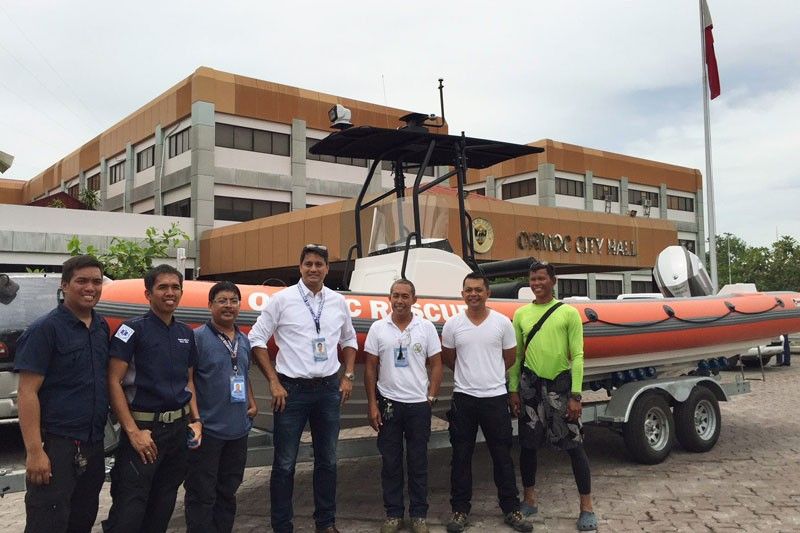 Ormoc Mayor Richard Gomez poses with members of a rescue team in front of rescue boat Lucy yesterday. Also in photo is CDRRMO officer Ciriaco Tolibao.
Rescue boat Lucy arrives in Ormoc
ORMOC CITY, Philippines — Rescue boat Lucy, a 26-foot inflatable boat with a 300-horsepower motor, arrived at the city hall here at around 11 a.m. yesterday.
The boat, which the city government acquired for P4.35 million, is the newest addition to its rescue team fleet.
Ormoc, with its five rescue vehicles with automatic external defibrillator, a heavy-duty pickup, a truck, a boom truck and seven rubber boats, is the best equipped rescue team in Eastern Visayas.
Gomez said the boat was brought from Subic by a team of rescue workers who sailed it through four to five-meter high waves from Matnog port.
Francis Omega, a member of the rescue team, said the boat could withstand turbulent waters.
Francis Paras, another rescue team member, said the boat is also fuel-efficient, noting that while it can carry 300 liters of gasoline they consumed only around 250 liters.
The other members of the team are Dominic Eamiguel, Edgar Castillo and Joel Quiros.
Ciriaco Tolibao, city disaster risk reduction and management officer, said the arrival of the boat enhances their capability to respond to marine emergencies.
"Last week, Isabel (town) was calling us to help rescue people on a capsized motorboat... With rescue boat Lucy, we can respond to similar emergencies... We can be there in less than 30 minutes. In emergencies, time is of the essence," Tolibao said.
Gomez said he requested the boat to be named Lucy because he previously owned one named Juliana. "Ngayon, dalawa na sila (Now there's two of them)," he said.
He said rescue boats are important in Ormoc, which is a coastal city.
Citing the sinking of M/B Nirvana in 2015, which left 96 people dead, Gomez said more lives could have been saved if the city government had a rescue boat.