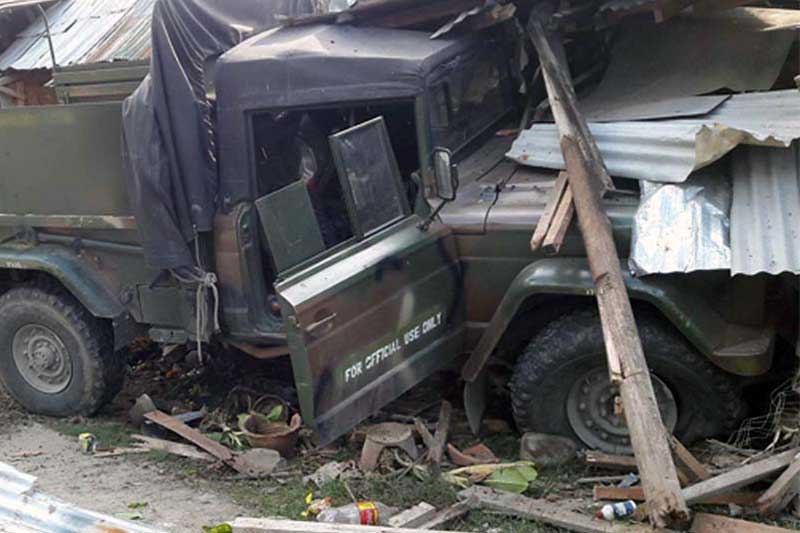 This file photo shows an Army utility truck damaged by an IED attack.
John Unson, file
6 soldiers hurt by roadside bomb in North Cotabato town
John Unson
(Philstar.com) - June 21, 2018 - 6:57pm
NORTH COTABATO, Philippines — An Army lieutenant and five of his soldiers were injured in a bomb attack by the New People's Army in Magpet town in North Cotabato at past 1:00 p.m. on Thursday, the military said.
The victims — 2nd Lt. Rustine Barco, Cpls. Ronnie Gutierez, Roldan Parcon, Shanon Obaldo and PFCs Rolando Bublao and Dennis Andol — of the Army's 19th Infantry Battalion, sustained shrapnel wounds when a roadside bomb hit their vehicle while on a farm-to-market road in Barangay Binay in Magpet.
They were on their way to the North Cotabato provincial capitol in Kidapawan City from a medical outreach mission ina remote farm community in Magpet.
The NPA has a strong presence in Magpet, whose residents it collects "protection money" from on a regular basis.
Lt. Col. Randy Llunar, commander of the 19th IB, said the NPAs, positioned along one side of the road, detonated a powerful roadside bomb as the vehicle carrying his close and then opened fire after the explosion.
Llunar said the wounded soldiers managed to return fire, forcing the rebels to scamper away.
He said Barco and his companions were rushed by responding barangay officials and emergency workers of the Magpet local government unit to a hospital in Kidapawan City.
The government has postponed the resumption of peace talks with the National Democratic Front of the Philippines originally set for later this month. The government said further talks should be held in the Philippines, a condition that the NDFP has said would be unacceptable.