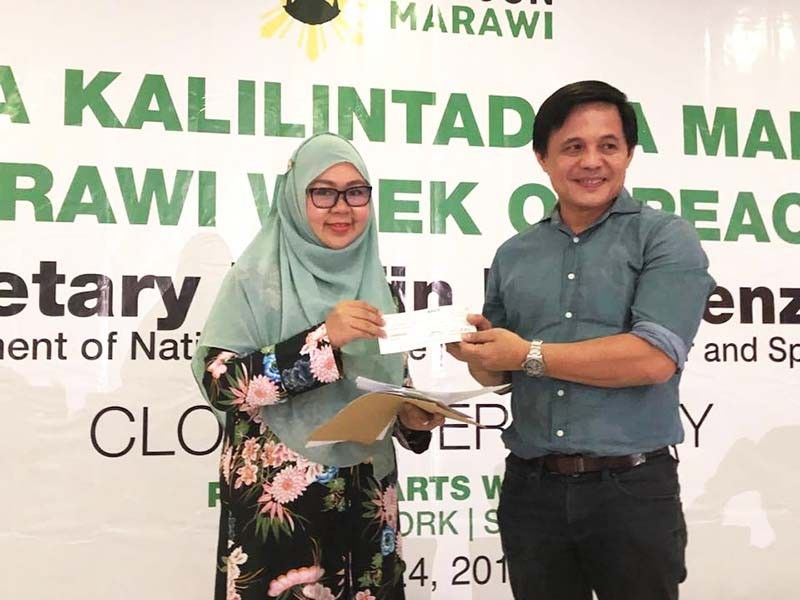 Mayor Majul Gandamra receives a P60 million worth check for infrastructure projects in Marawi City from Khal Mambuay-Campong of the Autonomous Region in Muslim Mindanao.
Philstar.com/John Unson
Infra programs launched to mark 1st anniversary of Marawi siege
LANAO DEL SUR, Philippines — Local sectors capped off the first anniversary of the deadly conflict in Marawi City with the launching Thursday of more projects to help residents bounce back from devastation.
The May 23-24 anniversary event was also highlighted with the observance of the "Marawi Week of Peace," launched six days before.
The Marawi Week of Peace culminated on Thursday in a program attended by the chairman of Task Force Bangon Marawi, Eduardo Del Rosario, Defense Secretary Delfin Lorenzana and officials of the Autonomous Region in Muslim Mindanao.
Lorenzana, accompanied by Armed Forces chief Gen. Carlito Galvez Jr., also led a wreath laying rite at a new memorial in the Army's Camp Ranao in Marawi City.
The memorial was built in honor of state security men killed during the May 23 to October 16 siege of Marawi City by Maute and Abu Sayyaf gunmen.
The government lost 165 soldiers and members of the Philippine National Police in the liberation of Marawi City from occupation by Islamic State-inspired militants, whose religious adventurism turned more than 200,000 innocent settlers to internally displaced people and left dozens of historic, centuries-old Maranaw dwelling enclaves in ruins.
The executive department of ARMM turned over on Thursday a P60 million worth check to Marawi City Mayor Majul Gandamra as initial tranche for the construction of a market and public transportation terminal to revive the local economy.
The check was turned over to Gandamra by Khal Mambuay-Campong, who is chief-of-staff of ARMM Gov. Mujiv Hataman, in a ceremony witnessed by security officials and local executives from Lanao del Sur.
Marawi City is the capital of Lanao del Sur, a component province of ARMM, which also covers Maguindanao and the islands of Basilan, Sulu and Tawi-Tawi.
The program was witnessed by Lorenzana, Galvez and Lanao del Sur Gov. Soraya Bedjoria Alonto-Adiong.
Hataman, Gandamra and the governor of Lanao del Sur have been cooperating, despite limited fiscal capability, in providing IDPs with humanitarian interventions since the May 23, 2017 outbreak of the hostilities in Marawi City.
Hataman's representatives also turned over last Thursday to Zia Alonto Adiong, member of ARMM's 24-seat Regional Assembly, a P15 million worth check, half of the budget for a public market project in Ditsaan Ramain town near Marawi City.
The new commander of the Western Mindanao Command, Lt. Gen. Arnel Dela Vega, said the military units in Marawi City and nearby towns in Lanao del Sur shall continue supporting the peace initiatives of local government units through complementing civil-military programs.
Dela Vega said soldiers in Marawi City and Lanao del Sur shall also participate in humanitarian missions of LGUs and the office of Hataman.
"Peace-building is a multi-sectoral initiative. It is a community effort. Peace and development cannot be achieved without teamwork among all stakeholders," Dela Vega said via mobile phone.