NHA blames residents for footbridge collapse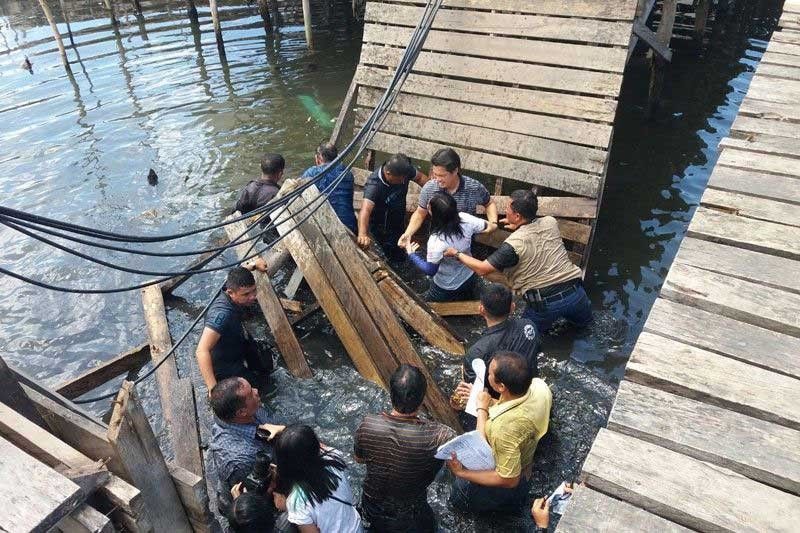 MANILA, Philippines — After blaming the contractor for the collapse of a wooden footbridge at a resettlement site in Zamboanga City last month, the National Housing Authority (NHA) is pointing to the residents as the culprits.
In a paper submitted to Negros Occidental Rep. Alfredo Benitez, House committee on housing and urban development committee chairman, the NHA Zamboanga office said structural components of the footbridge, such as cross bracings, had been removed by some of the residents.
The House panel conducted an inquiry after Benitez, Zamboanga City Rep. Celso Lobregat, Mayor Maria Isabelle Climaco-Salazar and local NHA officials and their staff fell into murky water when the footbridge collapsed.
The NHA said the footbridge that gave way had no cross bracings.
"The other cross bracings were removed by parents to discourage their children from jumping into the sea during high tide... Other inhabitants removed the cross bracings to allow access of their newly constructed or repaired boats," the NHA paper read.
Alhazen Sapie, technical consultant of the contractor of the project, said the design of the footbridge should ensure that it is strong for at least five years.
Sapie admitted that the footbridge where the congressmen fell was only 95 percent complete.
Ako Bicol party-list Rep. Rodel Batocabe said the NHA should have inspected the bridge.
"The NHA should have periodically inspected the construction because technically, it is still not complete," Batocabe said.
"You still have full control and supervision of the project site. You still own the project until and unless you are paid," the lawmaker told NHA officials at a House hearing on Wednesday.
The government reportedly spent P12 million for the construction of the footbridge.