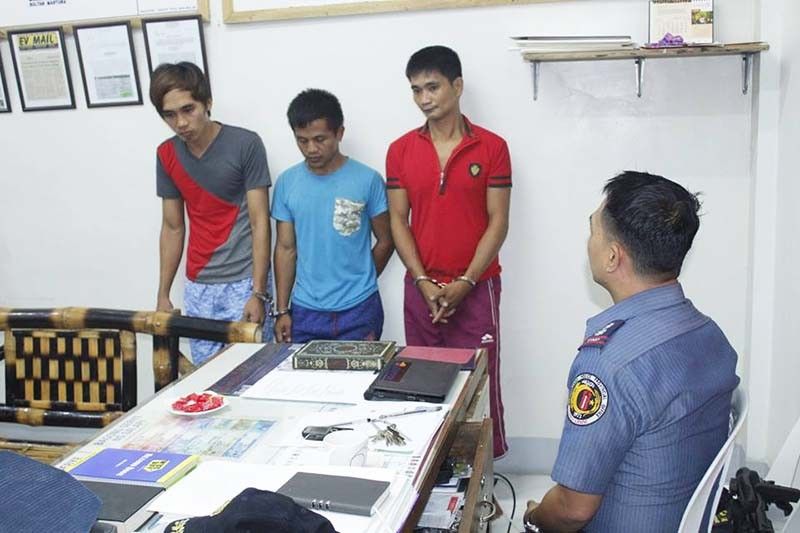 Malik Kumayog, Unasan Mawarao and Kamlon Hadjigani are now detained, awaiting prosecution.
Philstar.com/John Unson
Suspects in beheading of farmers in Maguindanao nabbed
MAGUINDANAO, Philippines — Three suspects in the beheading of two farm workers in Parang town last month surrendered to authorities Monday.
Chief Superintendent Graciano Mijares of the Police Regional Office-Autonomous Region in Muslim Mindanao said Tuesday Malik Kumayog, 22, Unasan Mawarao, 24, and the 23-year-old Kamlon Hadjigani yielded through the intercession of the local government units of Parang and Barira towns.
The two predominantly Iranun municipalities are both located in the first district of Maguindanao.
Mijares said the three men have confessed to their murder and decapitation of Cesar Fermin and Jaybob Bestas last April 28 in a barangay at the border of Parang and Barira towns.
"They have told investigators, during initial interrogation, that they were drunk when they perpetrated the crime," Mijares said.
The severed heads of Fermin and Bestas were found far from the scene three days after they were killed using machetes.
Mijares said he is thankful to local officials in Parang and Barira for helping secure the voluntary surrender of the suspects, now under police custody.