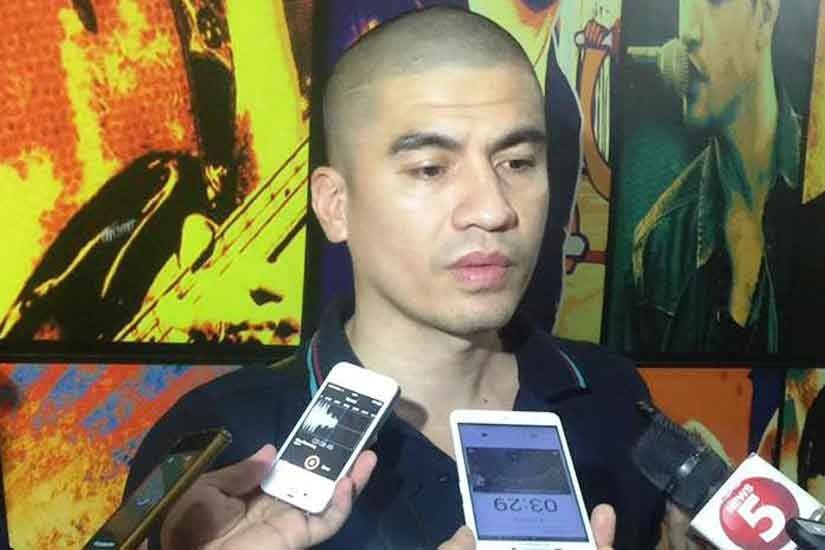 Former Philippine Basketball Association player Mark Reynan Cardona was arrested for allegedly stabbing a former girlfriend.
Interaksyon/Rey Joble
Cardona 'high on drugs' when he stabbed her, ex says
MANILA, Philippines — Former Philippine Basketball Association player Mark Reynan Cardona was allegedly high on drugs when he stabbed his former girlfriend, the victim claimed.
In her Instagram stories, Bianca Nicole Jackes detailed the stabbing incident that resulted in wounds on her left arm.
She clarified that they have not been together for two years now.
"He showed up where I was staying with my two kids and attacked me with a knife and stabbed me. Stabbed [me] in the arm…," Jackes said.
"Unlike what the news said, there was no argument that happened. Mark went there high on drugs and trying to get back with me and I refused. I didn't even yell because I don't want to wake up the kids. All I did was try to calm him down," she added.
The victim claimed that she got out of an abusive relationship with Cardona two years ago but the domestic violence had caused her "a lot of damage."
On Saturday, Cardona was arrested after he allegedly stabbed Jackes in Barangay San Antonio, Makati City.
The Makati police alleged the attack happened during a heated argument in their condominium unit, a narrative that Jackes disputes.
Cardona is currently detained at the Makati police station and is now facing charges of physical injuries.
In August 2016, Cardona also made it to the headlines following a drug overdose.
Last February, Cardona was charged with estafa and violation of Presidential Decree 1612, or the Anti-Fencing Law, before the Pasay prosecutor's office after he allegedly pawned a stolen Subaru Forester for P300,000 in Pasay City.