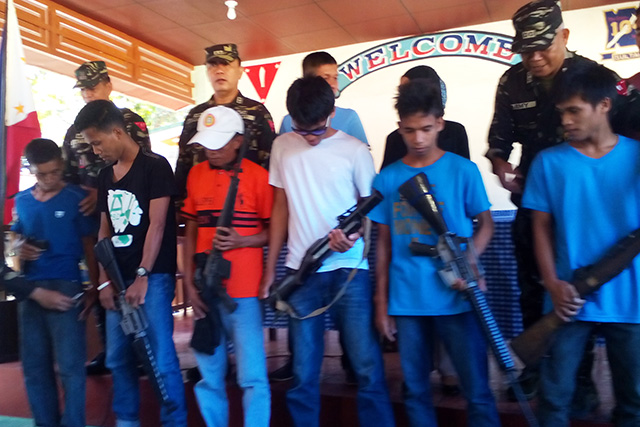 Former members of the Abu Sayyaf group surrender to the military in January. Philstar.com/Roel Pareño, file

Westmincom reforming militants to defeat Abu Sayyaf
ZAMBOANGA CITY, Philippines — The government is taking cues from Malaysia and Indonesia and is working on reforming members of the Abu Sayyaf group instead of engaging them in a war of attrition.
Lt. Gen. Carlito Galvez Jr., commanding officer of the military's Western Mindanao Command, said the regional neighbors managed to make gains against the Jemaah Islamiyah terror network through a 'soft hand' approach.
"It is not only in the Philippines that this is being done. Maybe this is the first time [here]. But in Malaysia and Indonesia, if you see, the JIs have been [weakened] because of these strategies, wherein hardcore terrorists were given time to be reformed," Galvez said.
He explained that killing a terrorist would give three or four relatives a reason to take up arms themselves.
"But if you will be able to reform one hardcore terrorist, all of his followers and his relatives will be reformed also," Galvez said, saying this approach is the best way to address "the unbreakable chain of violence perpetrated by the Abu Sayyaf."
Galvez said Abu Sayyaf groups like the "Ajang-ajang" or "Anakyatin" — the Tausug term for "sons of the warriors" or "sons of the martyrs" — are composed of militants whose fathers and brothers were killed in encounters with the military.
Galvez said Abu Sayyaf members believe they are martyred when they are killed in combat and that they will be replaced by a relative who will continue their fight.
"So that's what we are doing now, we get the model of how the Malaysians and Indonesians were able to counter the sprouting of the JI and I think we are gaining ground on this," Galvez said.
READ: Lorenzana backs reintegration program for former Abu Sayyaf
He said this is part of the reason the command accepted the surrender of notorious Abu Sayyaf leader Nurhassan Jamiri and 13 of his followers Tuesday last week. Many other Abu Sayyaf militants have surrendered in the past year.
The general said President Rodrigo Duterte's recent pronouncements to help former militants return to a normal life has helped convince Abu Sayyaf members to surrender.
He said an ongoing program funded by non-government organizations like the Balay Mindanao and Nagdilaab, the Eisenhower Fellowship and other foreign donors is also helping the Abu Sayyaf surrenderees reform.
"They saw the possibility they can be reformed upon learning the experiences of former members who surrendered ahead and are now freely moving around the community with their family," Galvez said.
He said, however, that surrenderees with pending cases will still have to face the courts.
"We cannot just drop those cases because we saw that surrender should also [be done] with justice... We also have to go by that because we respect also the rights of the victims to have justice," Galvez said.