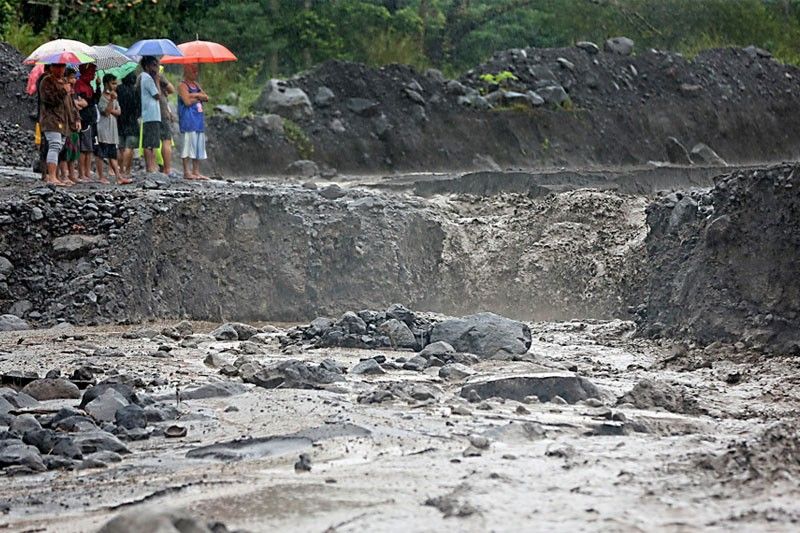 In a report yesterday, the OCD-Bicol said 25 to 30 milimeters of rain for three hours could mobilize newly extruded volcanic materials while three hours of torrential rains could push old volcanic debris. Philstar.com/File Photo
Mayon lahar threat: 80,000 face evacuation
Cet Dematera
(The Philippine Star) - March 25, 2018 - 12:00am
LEGAZPI , Philippines — More than 80,000 residents around Mayon Volcano may be evacuated due to the threat of lahar, according to the Office of Civil Defense (OCD) in Bicol.
In a report yesterday, the OCD-Bicol said 25 to 30 milimeters of rain for three hours could mobilize newly extruded volcanic materials while three hours of torrential rains could push old volcanic debris.
OCD-Bicol operations officer Jsar Adornado said more than 25,000 residents of this city face evacuation; 22,556 from Daraga; 8,353 from Tabaco and Camalig, and 5,847 from Guinobatan and Malilipot.
Residents of Sto. Domingo, Ligao and Bacacay are also at risk due to lahar.
Adornado said lahar deposits are in the gullies in Barangay Basud in Sto. Domingo, Quirangay in Camalig and the Sto. Domingo-Legazpi-Daraga-Camalig stretch of the volcano.
Phivolcs resident volcanologist Ed Laguerta said Mayon had extruded around 65 million cubic meters of volcanic materials, of which 13 million cubic meters are potential lahar sediments.
Weather forecaster Michael Francisco said a low-pressure area spotted off Mindanao could develop into a tropical depression and bring rains when it is near the Bicol region on Tuesday.
Cedric Daep, chief of the Albay Public Safety and Emergency Management Office, said they would issue a lahar advisory depending on the distance and strength of the tropical depression.
"It is not safe yet to make predictions on the impact of this low-pressure area...at this time that it is still outside the (Philippine area of responsibility)," Daep said.
In its latest bulletin, Phivolcs said active river channels and those perennially identified as lahar-prone areas should be avoided during bad weather or when there is heavy and prolonged rainfall.
Mayon remains under Alert Level 3. This means that although the volcano's unrest continues, there is a decreased likelihood of hazardous explosive eruption.