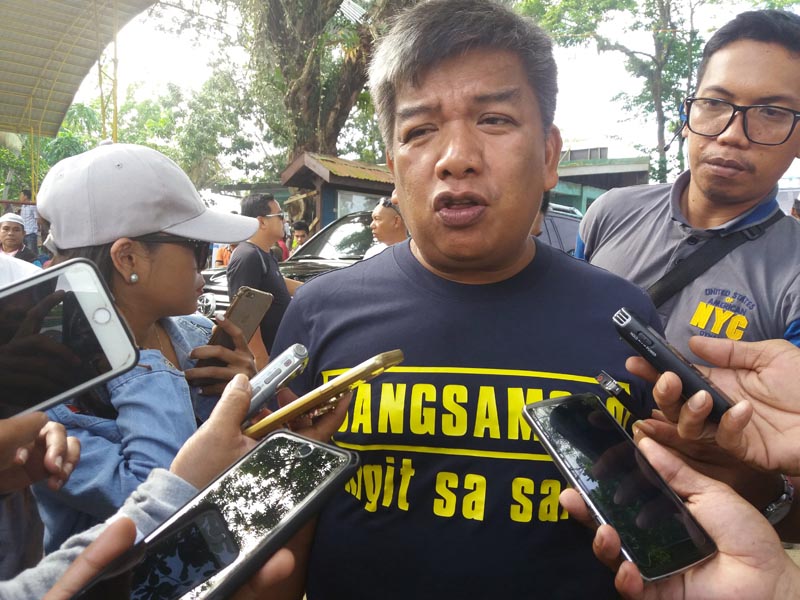 Hataman tells media that the ARMM is preparing for a possible transition to the Bangsamoro region transition. Hataman was in Maluso, Basilan for a "People's Day", where regional services are brought to local constitutents. Roel Pareño
ARMM prepares for potential transition to Bangsamoro region
BASILAN, Philippines — Institutions and agencies from the regional government down to the municipal level are getting ready for a potential transition of power to a proposed Bangsamoro region, Autonomous Region in Muslim Mindanao (ARMM) Gov. Mujiv Hataman said Sunday.
He made this assurance as he brought regional services to Maluso town during its "People's Day", an ARMM activity to encourage local governments to bring services to its constituents.
Hataman said a regional Cabinet meeting will be held in Basilan to discuss preparations for a handover to the Bangsamoro Transition Authority of the expected Bangsamoro regional government.
"Why should I prepare that? First, I want them to know that I started from a problematic regional government. Ayaw ko maranasan nila (BTA) ang naranasan ko noong nag-transition ako," Hataman said.
A proposed Bangsamoro Basic Law to create the new region is on its second push in Congress. The original proposal failed to hurdle the 16th Congress during the administration of President Benigno Aquino III.
The BBL is based on the Comprehensive Agreement on the Bangsamoro that the government and the Moro Islamic Liberation Front signed in 2014.
Hataman said that Basilan is among the provinces ready for transition up to the municipal level. Other provinces are prepared at the provincial level.
It will be recalled Hataman assumed as officer-in-charge of the ARMM in 2011 to oversee reforms in the graft-ridden autonomous region. The seat of regional governor was vacated when Zaldy Ampatuan, his siblings and father were arrested over the gruesome massacre of 58 people in Ampatuan, Maguindanao in late 2009.
Hataman said he is confident the incoming BTA government will have "something good to start with" if and when it takes over the region.
He said he will also brief the BTA on challenges he encountered and experienced as regional leader of the ARMM.
"I want them to know the details of what we learned," Hataman said.
The ARMM governor said he is not worried that the development in the Muslim region during his term will be neglected when the new Bangsamoro government will take over.
"I believe we have set the standard, otherwise it will be shameful for others," Hataman said in assuaging the apprehensions of people who doubtful of the future of the region.