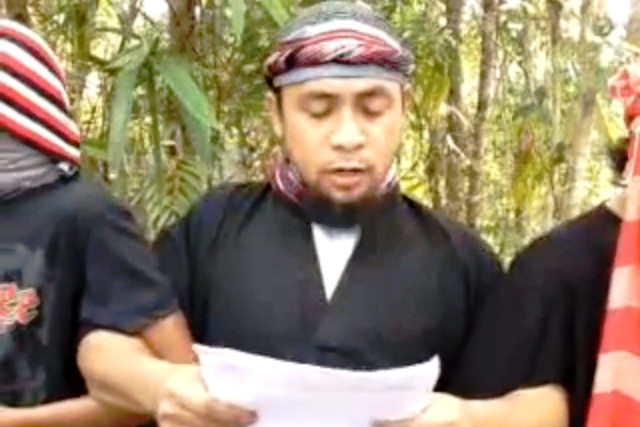 Image from an undated video shows Malaysian militant Mahmud bin Ahmad who helped lead and finance the siege in Marawi City. AP, File photo
Hapilon's follower, Abu Sayyaf member nabbed in Zambo
ZAMBOANGA CITY, Philippines — A follower of slain Abu Sayyaf and Islamic State leader Isnilon Hapilon and another member were arrested separately by the police intelligence unit in this city, a police official said Saturday here.
Chief Superintendent Billy Beltran, director of Police Regional Office 9, identified one of the suspects as Radulat Balito, a follower of Hapilon.
Hapilon, who left Basilan and established ties with the Maute Group, was named as the emir of the IS for Southeast Asia. He was killed during the military offensive that liberated Marawi City in October last year.
Beltran said the other arrested Abu Sayyaf member was Isah Sampal, also known as Sonny Abubakar.
Balito was arrested on Friday about 7:50 a.m. by members of the Regional Intelligence Division unit under Superintendent Fergen Torred at Barangay Recodo, a west coast village this city.
Sampal, on the other hand, was arrested about 7 a.m. Saturday by the same police intelligence unit at Barangay Mariki, a coastal village destroyed at the height of the 2013 siege.
Beltran said both suspects were facing charges of kidnapping and serious illegal detention in connection with the mass abduction of plantation workers of Golden Harvest Inc. at Barangay Tairan, Lantawan on June 11, 2001.
The two suspects were positively identified by witness, who are under the Witness Protection and Security Benefit Program of the Department of Justice.
Based on the accounts of the witness, the two were among those who joined the Abu Sayyaf group who abducted around seven to 15 workers. Five victims were then executed.
According to witnesses and kidnap victims, about 70 Abu Sayyaf group members were involved during the raid in the plantation.