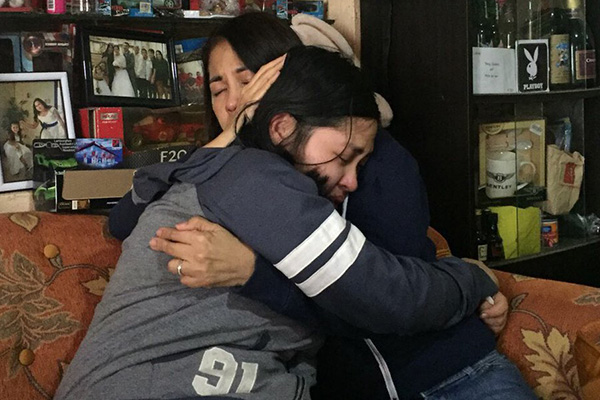 On Christmas eve, missing teenager reunites with her family. Bea Policarpio/Facebook
'Christmas miracle': Missing teen Ica found in Laguna
MANILA, Philippines — The National Capital Region Police Office on Sunday morning confirmed that the 17-year-old girl reported missing since Thursday has been found in Laguna.
The NCRPO reportedly found Grade 12 student Ica Policarpio in San Pablo, Laguna on Christmas eve. The authorities said it would hold a press briefing in Muntinlupa City Police station regarding the matter.
"Ica was finally found safe and sound! She is now under the custody of the police," the NCRPO said in its update.
The Policarpio family earlier made a nationwide appeal through social media to seek for public's help in finding Ica. Ica was last seen in Sucat, Muntinlupa City.
Ica's sister, Bea Policarpio, on Sunday morning took to social media anew to thank netizens, authorities, and strangers for helping them find and pray for her sister. She shared a photo of her and Ica.
Bea described her family's reunion with Ica as a "Christmas miracle."
"Words cannot express our joy in this moment. Our family can never thank you enough, each and every one of you, for storming the heavens so we could be given a second chance to be complete," Bea wrote in a Facebook post.
Bea also asked the public to respect their family's privacy amid the investigation on Ica's case.
"Investigation is still ongoing, but be assured we will be verifying relevant facts via official media sites. Kindly wait for that and respect our family's privacy at this time," Ica said.
"In the meantime we just wanted to ease everyone's worry and let you all know that she is okay, she is unharmed, and she is with us. Thank you Lord. Thank you everyone for helping us," she added.