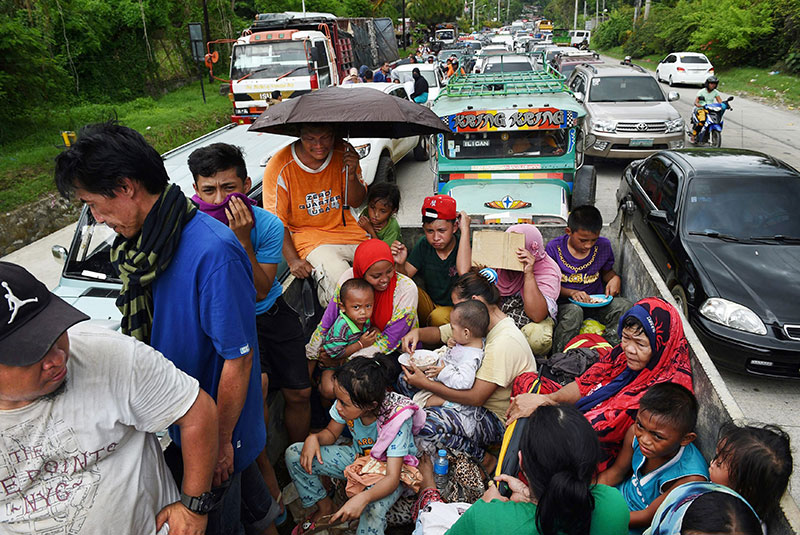 Civilians were rescued and escorted out by government forces to safety as fighting subsided. AFP/File photo
What happened in 2017? The South remembers
John Unson
(Philstar.com) - December 23, 2017 - 9:55am
COTABATO CITY, Philippines — Southerners will remember 2017 as the year violent religious extremists (VREs) espousing an extreme kind of Islam that moderate Muslims detest came to fore.
There are at least five groups now of VREs in Southern Philippines, all using the Islamic State flag as revolutionary banner.
While VREs in the Maute terror group first surfaced in late 2014 in Butig town in the second district of Lanao del Sur, the group hit the news globally with its siege of Marawi City on May 23, 2017.
The religious adventurism of the Maute terror group in Marawi City also went viral on social media.
The conflict in Marawi City, which lasted for five months, prompted President Rodrigo Duterte to put Mindanao under martial law.
It also resulted in drawn-out hostilities that caused the displacement of more than 300,000 Maranaos, resulted in the deaths of more than a thousand, including more than a hundred soldiers and policemen, and left a historic city in ruins.
Lt. Gen. Carlito Galvez Jr. of the Western Mindanao Command and Mayor Dimnatang Pansar of Butig town in Lanao del Sur both confirmed recently that brothers Omar and Abdullah Maute and their five siblings all perished in encounters with state forces from between May 23 to October 23.
Butig, a hinterland town in the first district of Lanao del Sur, is hometown of the Maute clan.
The patriarch of the Maute clan, Cayamora, died in detention two months after he was arrested in Davao City in June.
Cayamora's wife, Farhana, nabbed in Masiu town in Lanao del Sur, is now being prosecuted for rebellion and other criminal charges.
The government has weakened the Maute group, but some members, among them an ethnic Maranao named Abu Dar, is trying to consolidate militants driven out of Marawi.
Abu Dar and his followers are now roaming in hinterlands in Lanao del Sur's forested Unayan Area.
It was in July 2017 when a third faction in the outlawed Bangsamoro Islamic Freedom Fighters, led by radical cleric Esmael Abdulmalik, most known as Abu Toraife, declared war on non-Muslims in Mindanao.
He also announced then their rejection of the ongoing peace overture between the government and the Moro Islamic Liberation Front.
More than 30 followers of Abdulmalik were killed in clashes with MILF forces in the adjoining Salibo, Datu Piang and Saidona towns in Maguindanao from late July to August 2017.
The MILF's campaign against Abdulmalik and his men was launched in keeping with its commitment to help the government address security issues in conflict flashpoint areas based on its 1997 interim ceasefire pact with Malacañang.
The Army's 6th Infantry Division, which has jurisdiction over Maguindanao and North Cotabato, where the BIFF-Abdulmalik faction operates, has been enforcing tight security measures in both provinces to restrain movements of militants.
Moderate Muslims have rabidly been vocal against VREs claiming allegiance to the Islamic State.
Abu Huraira Udasan, grand mufti (preacher) of the Bangsamoro Darul Iftah, also known as House of Opinions, said it is sinful in Islam to foment animosity between Muslims and non-Muslims.
Udasan said Islam espouses the "la iqra fidin" principle, which literally means there is no compulsion in religion.
Neutral Muslims also rant about the enforcement by VREs of a ruthless Taliban-style justice system which is for them absolutely primitive and barbaric.