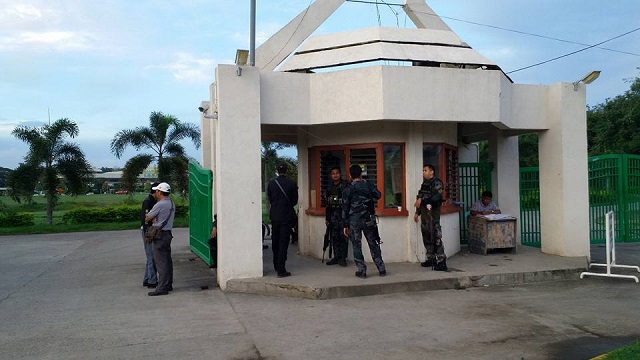 Police guard the entrance to the provincial capitol in Kidapawan City, where the jail is located. Courtesy of Abner Francisco/Facebook, file
North Cotabato board urges medical aid for 'friendly forces' vs BIFF
John Unson
(Philstar.com) - August 23, 2017 - 2:05pm
COTABATO CITY, Philippines — The North Cotabato provincial board passed a resolution Tuesday urging the Defense department to assist "friendly forces" injured in clashes with outlawed Islamic militants.
North Cotabato Vice Gov. Shirlyn Macasarte-Villanueva on Wednesday told The STAR that the resolution, proposed by Board Member Socrates Piñol, was approved during the session of the Sangguniang Panlalawigan Tuesday in Kidapawan City.
North Cotabato is actually called Cotabato province but people keep the old name to contrast it with South Cotabato province.
Macasarte-Villanueva, chairperson of the North Cotabato SP, and Board Member Kelly Antao, co-authored the resolution.
The resolution urged the Department of National Defense to help shoulder the medical expenses of guerrillas of the Moro Islamic Liberation Front and members of Barangay Peacekeeping Action Teams hurt in hostilities with local terrorists.
More than a dozen MILF guerrillas have been killed in recurring gunfights with members of a third faction in the Bangsamoro Islamic Freedom Fighters in Maguindanao since early this month.
The group, which boasts allegiance to the Islamic State of Iraq and Syria, is led by Esmael Abdulmalik, a former henchman of slain Malaysian terrorist Zulkifli bin Hir, most known as Marwan.
The MILF declared war against Abdulmalik and his men after six botched attempts to hoist the black ISIS flag in different areas in Maguindanao's adjoining Mamasapano, Salibo, Datu Saudi, Sharif Saydona and Datu Piang towns.
Local officials in the five Maguindanao towns have confirmed that 23 followers of Abdulmalik have been killed in clashes with MILF forces since early August.
The MILF, which has signed a peace agreement with the government, is obliged by a 1997 ceasefire accord with the government to help the Armed Forces of the Philippines and the Philippine National Police maintain law and order in conflict flashpoint areas in the south.