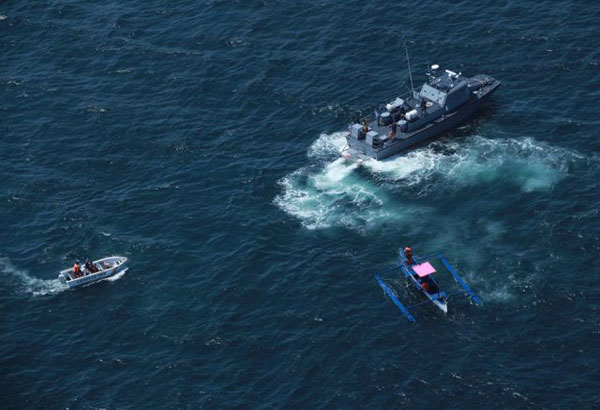 Joint Task Force Basilan, through the Naval Task Group Basilan, Naval Task Force 61, and Navy Intelligence Service Group launched pursuit operations that led to the rescue. File photo
Navy rescues Vietnamese sailor from Abu Sayyaf
ZAMBOANGA CITY, Philippines — The Philippine Navy on Sunday rescued a Vietnamese sailor that the Abu Sayyaf group had held captive since November, security officials said.
R.Adm. Rene Medina, commander of Naval Forces Western Mindanao, said Do Trung Huie was rescued about 9 p.m. on Sunday at Mataja Island off Lantawan town.
Medina said combined forces from the Joint Task Force Basilan, through the Naval Task Group Basilan, Naval Task Force 61, and Navy Intelligence Service Group launched pursuit operations that led to the rescue.
"The intensified military offensives caused the Abu Sayyaf Group to flee and opened a chance for rescue operations," Medina said.
Do Trung Hieu along with five other crew of M/V Royal 16 crew members — identified as Pham Minh Tuan, Tran Khac Dung, Hoang Trung Thong, Hoang Van Hai, and Huang Vo — were abducted by the group of Sulu-based sub-leader Alvin "Arab Puti" Yusop, Alhabsy Misaya and Basilan-based sub-leader Radzmil "Kubayb" Jannatul while sailing near Sibago Island, Basilan on November 11, 2016.
Hoang Vo, 22, escaped from his captors last June 16.
The Abu Sayyaf beheaded Hoang Trung Thong and Hoang Van Hai in Barangay Tumahubong, Sumisip town on July 5.
The Navy said that remains believed to be of Tran Khac Dung — alias Tran Viet Van — were also recovered in Buhanginan, Patikul town, Sulu on July 15.
Security have yet to locate the last remaining Vietnamese captive in Basilan.
Col. Juvymax Uy, JTFB commander, said the relentless pursuit and intelligence tracking led to the rescue of the victim.
"Said rescue was a result of the maximized conduct of intelligence operations and the successful airstrike mission launched by our troops on the ground," Uy said.
Do Trung Hieu was immediately brought to the headquarters of the Naval Forces Western Mindanao and given medical attention by military doctors at Camp Navarro General Hospital (CNGH) inside the Camp Don Basilio Navarro.