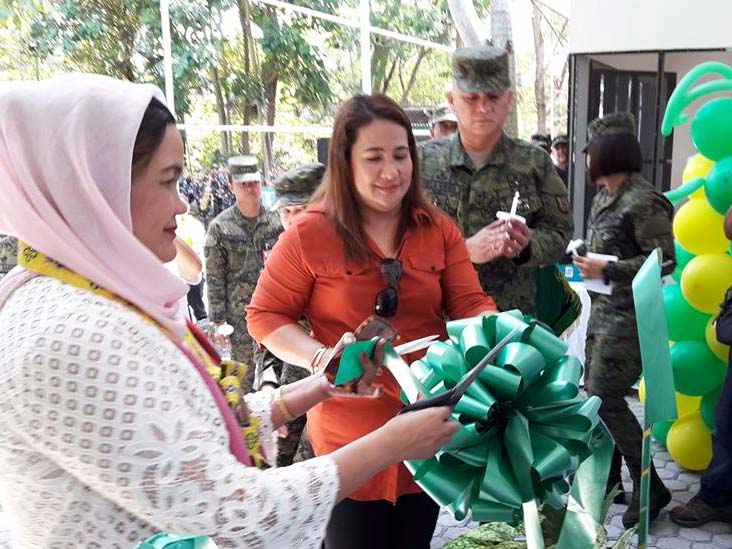 House Deputy Speaker for Mindanao Sandra Sema (left) launched Thursday the brigade commanders' den in Camp Siongco along with Major Gen. Arnel Dela Vega and spouse Divina. Philstar.com/John Unson
Commanders' den launched in Maguindanao
John Unson
(Philstar.com) - July 28, 2017 - 4:49am
MAGUINDANAO, Philippines — Officials launched Thursday the brigade commanders' den in Camp Siongco where officers from across central Mindanao can converge for periodic peace-building initiatives.
The facility was built through joint efforts of the Army's 6th Infantry Division and Deputy Speaker Sandra Sema, congressional representative of the first district of Maguindanao.
The 6th ID is central Mindanao's largest Army unit whose headquarters is located in Camp Gonzalo Siongco in Datu Odin Sinsuat town in Maguindanao.
The commander of 6th ID, Major Gen. Arnel Dela Vega, said on Thursday that he is thankful to Sema, now in her third and last term as congresswoman, for helping them put up the brigade commanders' den.
The new building is located beside Camp Siongco's harmony center, a bigger facility for peace dialogues and other civil-military engagements.
The 6th ID is actively helping push the Mindanao peace process forward through dialogues and programs propagating interfaith and cultural solidarity among Muslim, Christian and Lumad sectors.
Central Mindanao's neighboring Maguindanao, North Cotabato, Sultan Kudarat and Lanao del Sur provinces comprise 6th ID's coverage area, all bastions of the Moro Islamic Liberation Front.
The 6th ID, which controls three brigades and more than a dozen battalions scattered in the four provinces and in the cities of Cotabato and Tacurong, has markedly been active in supporting the current peace overture between the government and the MILF.
The government-MILF peace initiative is aimed at putting a negotiated closure to the now five-decade Moro rebellion.
Dela Vega said Sema, who is identified with the largest and most politically-active group in the Moro National Liberation Front, is a staunch benefactor of domestic activities meant to hasten the peaceful resolution of the Moro problem hounding Mindanao since the late 1960s.
The newly-constructed brigade commanders' den was launched amid a workshop by representatives of different youth organizations against violent religious extremism in another function facility in Camp Siongco.
The 6th ID-sponsored workshop is meant to inculcate among participants critical awareness on the dangers of allowing outcast Islamic militants from roaming freely to foment animosity between Muslims and non-Muslims.