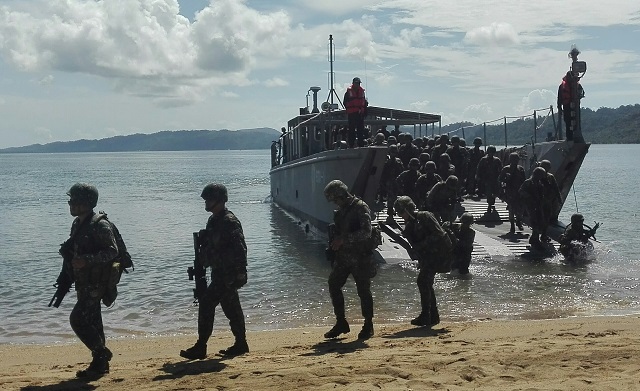 Philippine Marines wade to shore from a landing craft during a training exercise. Philstar.com/Jonathan de Santos, file
Marines arrive in Iligan to reinforce troops in Marawi
ZAMBOANGA CITY, Philippines — Marine reinforcements arrived in Iligan City on Wednesday to help in the fight against remnants of the Islamic State-inspired terrorists holed out in a few defensively occupied pockets of Marawi City in Lanao del Sur.
Rear Adm. Rene Medina, commander of Naval Forces Western Mindanao, said the Marines who arrived aboard two transport ships include the Fleet-Marine Team of combat service support and K-9 units.
Iligan in Lanao del Norte province is around 38 km away from Marawi City.
Medina said the additional forces will augment Army and Marine troops currently fighting Maute and Abu Sayyaf militants in Marawi City. Fighting has been ongoing since May 23, when the militants engaged security forces on an operation against Abu Sayyaf leader Isnilon Hapilon.
The ships also transported relief goods from local government units, national government agencies and non-government organizations. The relief items are meant for those displaced by the fighting in Marawi City.
According to the Department of Social Welfare and Development, fighting has so far affected more than 92,000 people, many of whom are staying with relatives or friends. Close to 11,200 are in evacuation centers.
Rear Adm. Medina said NFWM is optimistic the additional forces and logistical support will strengthen the military's hold on the area and will help them eventually crush the terrorists.
According to the Armed Forces of the Philippines, the government now controls around 90 percent of the 8,755-hectare city.