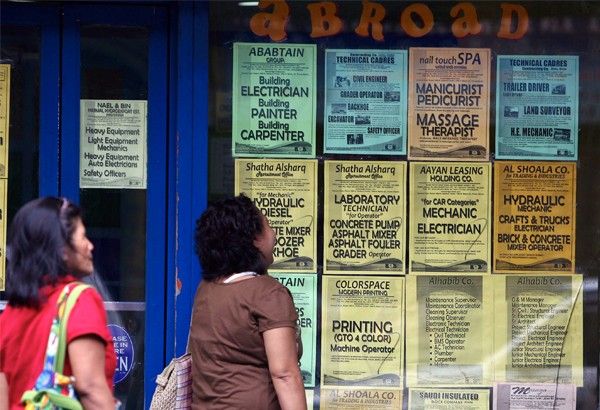 Mangudadatu said the POEA and NBI can help curb human trafficking and extremism in Maguindanao province.
File photo
Mangudadatu: Local POEA, NBI offices needed in Maguindanao
John Unson
(The Philippine Star) - March 22, 2017 - 3:38pm
MAGUINDANAO, Philippines — The governor of Maguindanao has offered lots for offices of two national agencies essential to domestic campaigns against human trafficking and misguided Islamic extremism.
Gov. Esmael Mangudadatu, chairman of the inter-agency provincial peace and order council, announced this Tuesday at the capitol in Buluan town during a special program commemorating International Women's Day in the province.
He said he wants the Philippine Overseas Employment Administration and the National Bureau of Investigation to put up offices in Buluan town, the capital of Maguindanao province, to complement local efforts to curb the enlistment of underage women for overseas jobs.
"Most victims are literally girls, adolescents. We need field offices of the NBI and the POEA in the province to stop this problem. The provincial government can donate lands where offices of these two agencies can be constructed," Mangudadatu said.
He said an NBI office in the province can also help the provincial police and the military prevent the proliferation of more local Islamic militant groups in the fashion of the Islamic State of Iraq and Syria.
Major Gen. Carlito Galvez, Jr., commander of the Western Mindanao Command of the Armed Forces of the Philippines, had earlier confirmed that there are now more than 50 cells of local ISIS-inspired terrorists in Lanao del Sur and parts of central Mindanao.
Moira Lintongan-Idiesca, a senior staff member in POEA's central office, said Maguindanao is among the country's top ten provinces where there is high prevalence of women seeking house service works abroad.
She said most of those recruited for employment abroad are below 23, the requisite age for Filipino foreign job seekers.
Hundreds of representatives from different women's organizations in Maguindanao's 36 towns joined the launching on Tuesday of the two-day outreach activities in Buluan, intended to highlight the provincial government's observance of the International Women's Month.
"This two-day activity, which includes entertainment programs and free medical services for women, is our special treat for the women in the province," Mangudadatu said.
Tara Dermott, program leader in Asia of the United Nation's International Organization for Migration (IOM), said one domestic concern that needs attention is education for women and their free access to information.
Dermott said women can play important roles in peace-building and other community development initiatives if harnessed and provided with education and other interventions meant to empower them.
The IOM is involved in global programs promoting welfare of women and in preventing human trafficking.
Dermott and Idiesca were among the dignitaries who joined Tuesday's gathering in Buluan town of hundreds of women from across Maguindanao.
Mangudadatu said the provincial government has actively been pushing forward various programs intended to empower Maguindanao's Muslim, Christian and Lumad women.
"Majority of the college students whose schooling is being bankrolled by my office are female scholars," he said.
The governor's Maguindanao Program for Education and Community Empowerment, or MagPEACE, now has more than 6,000 college scholars studying in different schools in Mindanao.
"Education is a very good remedy to poverty and fanatically misguided religious extremism," Mangudadatu said.