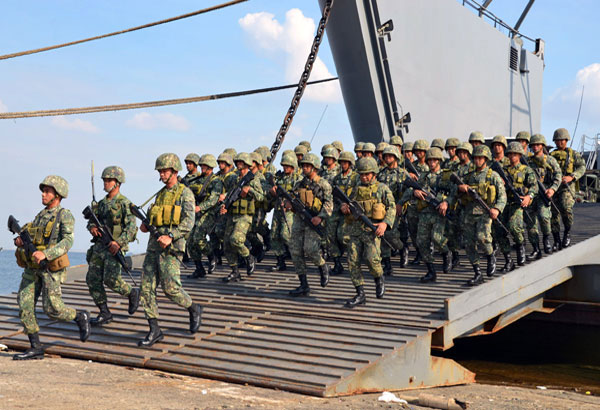 Philippine Marines disembark from a troop transport. File photo
More Marines sent to secure Maguindanao, Sultan Kudarat
John Unson
(Philstar.com) - December 6, 2016 - 9:51am
SULTAN KUDARAT, Philippines — The Philippine Marine Corps on Sunday has augmented its forces securing coastal towns in Sultan Kudarat and Maguindanao provinces with an additional battalion to help local authorities address fanatical Islamic militants.
The 2nd Marine Battalion, comprised of more than 500 Marines, was welcomed on Sunday by residents of Kalamansig town led by Mayor Ronan Garcia.
The unit will join four other battalions under the 2nd Marine Brigade based in nearby Lebak town also in Sultan Kudarat.
Gen. Alvin Parreño, brigade commander, was also present in the welcome honors that local officials extended to the Marines.
Parreño said the battalion will be engaged in peace-building and humanitarian activities while also performing security duties in local communities.
The Marines are popular in Central Mindanao for having driven away more than a hundred Khilafa Islamiya militants from Palimbang, Sultan Kudarat in late 2015.
That operation resulted in the deaths of seven jihadists and the restoration of government control over their enclave.
The outlawed Khilafa Islamiya used the black flag of the Independent State of Iraq and Syria while it operated a "shadow government" from its camp southwest of Palimbang.