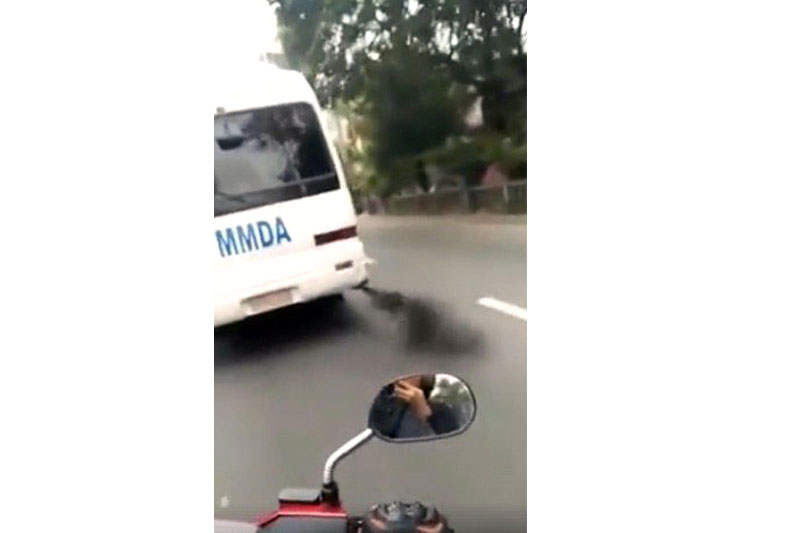 An image taken from Moises Meman's post on Facebook shows a Metropolitan Manila Development Authority vehicle emitting dark smoke.
MMDA vehicle caught belching smoke
Ghio Ong
(The Philippine Star) - February 21, 2018 - 12:00am
MANILA, Philippines — Amid the government's crackdown on smoke-belching public utility vehicles, a service vehicle of the Metropolitan Manila Development Authority (MMDA) was seen belching smoke in a viral video.
Facebook user Moises Meman took a video of the vehicle, with plate number SEK-769, as he was driving his motorcycle along Kalayaan Avenue in Makati City at around 3 p.m. on Feb. 11.
He uploaded the 20-second video, along with a closer view of the plate number, on Feb. 14.
Meman said the MMDA could have been fair since the agency is cracking down on smoke-belching buses and jeeps.
The agency will find out why the vehicle – one of its three shuttle service vehicles – was on the road when it was "recommended for calibration," MMDA spokesperson Celine Pialago said.
The car had been put on hold in the MMDA motorpool and any personnel who allowed its dispatch could be punished, she added.
The MMDA is part of the "Tanggal Bulok, Tanggal Usok" campaign that flags down smoke-belching and dilapidated public utility vehicles like jeeps and buses.