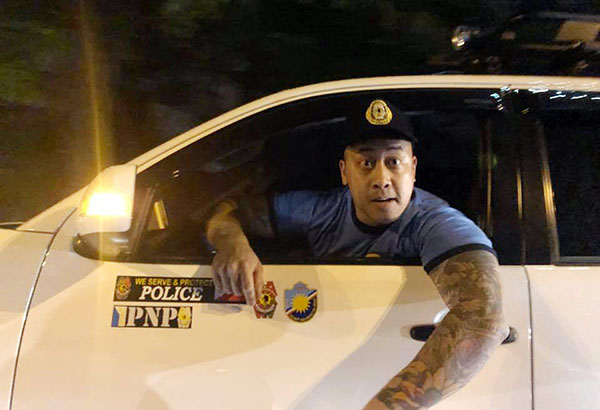 A motorist wearing a policeman's uniform reacts during a traffic altercation in Bonifacio Global City Wednesday night in a Facebook post by Pinky Timbang Ortiz.
Fake cop in Bonifacio Global City road rage identified
MANILA, Philippines — Police have identified the fake policeman who figured in a road rage incident in Bonifacio Global City, an official said yesterday.
The heavily tattooed man wearing a police athletic uniform and cap is Filipino-Chinese business consultant Joseph Philip Lu Bautista, 36, said Superintendent Jenny Tecson, Southern Police District (SPD) spokesperson.
Police officers visited Bautista in his unit at the Aventine Townhouses in Ususan, Taguig, based on information given by concerned citizens, she said.
Quoting investigators, Tecson said Bautista admitted he was the person in the photos posted on Facebook by Pinky Ortiz .
"He further claimed that he is not a policeman and the reason he wore the PNP athletic shirt was because 'they were comfortable,'" she said.
SPD director Chief Superintendent Tomas Apolinario told The STAR that the police did not arrest Bautista but only invited him to confront his accuser.
Ortiz and her husband went to the Taguig police station yesterday afternoon and issued a statement on the road rage incident she posted on Facebook on Dec. 27.
Ortiz said she and her companion were driving along McKinley Parkway and about to cross another street when they stopped after a jeepney in front of them also stopped.
While waiting, a Toyota Fortuner wanting to turn right to McKinley Parkway stopped about an inch from their vehicle. The driver honked his horn and even turned on the emergency siren.
After they drove forward, the other vehicle overtook them, according to Ortiz.
It was then that the driver shouted at them, threatening to bring them to a police precinct for beating a traffic light, she said.
Ortiz took photos of the driver, who wore a police cap and athletic shirt. She also took a picture of the vehicle's plate number, ABH 5257.
Bautista denied Ortiz's allegations.
Tecson said the city police, as the nominal complainant, will ask the Land Transportation Office to revoke Bautista's driver's license and cancel the registration of his car, which bears a police siren and stickers of different units of the Philippine National Police, "a clear violation of PNP standards."
Tecson said the Taguig police will also file charges against him for the illegal use of the police uniform.
She said that they are also conducting an investigation to determine the owner of the vehicle Bautista used and the commemorative PNP car plate he used.
She emphasized that the PNP is observing its "Oplan Tamang Bihis" to ensure that police officers observe the proper dress code and that the PNP has authorized exclusive distributors or providers of the police uniforms.
Ortiz's Facebook post prompted NCRPO Director Oscar Albayalde to order an investigation of the incident.
Ortiz's post received more than 18,000 reactions and was shared more than 30,400 times as of yesterday afternoon.