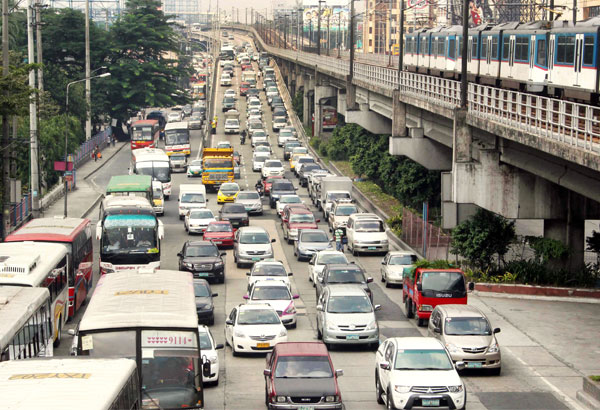 Only vehicles with two passengers or more would be allowed to pass through the HOV or carpool lane, which is the inner or leftmost lane on EDSA, according to Metro Manila Council (MMC) officer-in-charge Crisanto Saruca. File
EDSA carpool lane dry run starts today
Ghio Ong
(The Philippine Star) - December 10, 2017 - 4:00pm
MANILA, Philippines — The Metropolitan Manila Development Authority (MMDA) will conduct a one-week dry run of the so-called high occupancy vehicle (HOV) lane along Edsa starting at 6 a.m. today, an official said yesterday.
Only vehicles with two passengers or more would be allowed to pass through the HOV or carpool lane, which is the inner or leftmost lane on EDSA, according to Metro Manila Council (MMC) officer-in-charge Crisanto Saruca.
The traffic scheme, which aims to ease traffic congestion on EDSA, was approved by Metro Manila mayors during a meeting at the MMDA office in Makati on Dec. 5.
The MMC is the policy-making body of the MMDA.
The measure aims to encourage carpooling to reduce the number of vehicles using EDSA.
Saruca said motorists violating the HOV lane would not be apprehended during the dry run.
He said the MMDA would strictly enforce the HOV lane starting Dec. 18.
Violators will then be apprehended and will be fined P150 for disregard of traffic signs and P500 for reckless driving.
The MMDA will use the no-contact apprehension through closed-circuit television cameras to spot offenders, Saruca said.
The MMDA is also planning to ban motorcycle riders from using EDSA.
MMDA officials said prohibiting motorcycles on EDSA would help reduce the number of vehicles and accidents along the most congested thorougfare in the metropolis.
The agency also asked Metro Manila mayors to increase fines for traffic violators.
Saruca said local government units could pass ordinances to raise penalties for traffic offenders.
For instance, he suggested that the P150 fine for disregarding traffic signs be increased to P500.
Quezon City Rep. Winston Castelo proposed a hefty fine of P500,000 for erring bus drivers to solve the worsening traffic situation in Metro Manila. – With Delon Porcalla