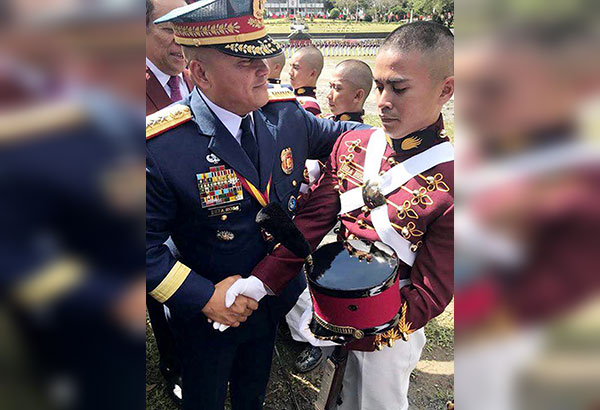 PNP chief Director General Ronald dela Rosa congratulates his son, Rock, during recognition rites for the members of Hinirang Class of 2021 at the Philippine National Police Academy in Cavite yesterday.
'Bato' proud of son for becoming PNPA cadet
MANILA, Philippines — For Philippine National Police (PNP) chief Director General Ronald "Bato" dela Rosa, seeing his only son survive the grueling phase of his training and becoming a cadet at the Philippine National Police Academy (PNPA) is one of the happiest moments in his life.
Dela Rosa could not contain his emotions when he attended yesterday's recognition rites for PNPA Hinirang Class of 2021 of which his son, Rock, is a member.
Dela Rosa was among senior officers who joined upperclassmen at the academy who tapped chests and shook the hands of the new cadets, which was the highlight of the ceremony.
The younger Dela Rosa tilted his body upwards like the rest of his batchmates – part of the tradition for new cadets.
Dela Rosa could be seen fighting back tears when he approached his son.
After he tapped Rock's chest, he hugged his only son for several seconds.
"I told my son I'm very proud of him," Dela Rosa told reporters in an interview.
The younger Dela Rosa, at 22, is among the members of the class who survived seven months of physical and mental training.
During this period, plebes are exposed to intense physical and mental exercises where they are not allowed to communicate with their upperclassmen.
There were initially 354 plebes in the class but only 296 remain.
Dela Rosa was apprehensive when Rock joined the PNPA because of the pressure he would experience as the son of an incumbent PNP chief, but the younger Dela Rosa assured his father he could handle the pressure.
"I was very hesitant but he insisted, so what can I do?" he said.
Some of Rock's upperclassmen gave him more than one tap on the chest then hugged him.
Some of his upperclassmen said the younger Dela Rosa received the same treatment, saying there was no instruction from higher officials to go easy on him.
Dela Rosa was fully aware of the hardships a plebe would encounter as he had the same experience when he joined the Philippine Military Academy (PMA).
"I saw myself in him 39 years ago," said Dela Rosa.
Dela Rosa said he wants his son to chart his own destiny when he graduates from the PNPA and becomes a police officer.