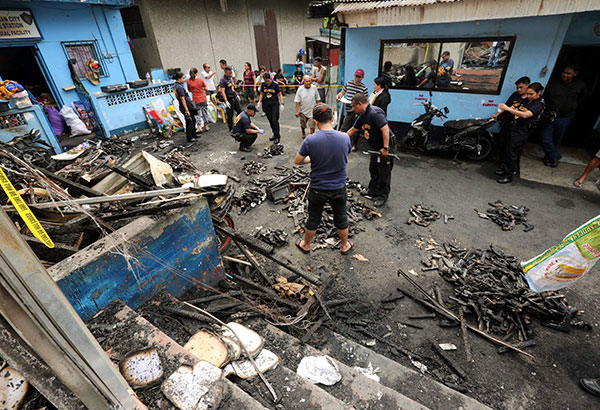 Crime scene investigators take an inventory of firearms after a fire broke out at the Caloocan City police headquarters yesterday morning. Boy Santos
Fire razes Caloocan police station
(The Philippine Star) - November 14, 2017 - 4:00pm
MANILA, Philippines — A fire razed the Caloocan City police station yesterday morning, reducing to ashes numerous case folders, including cases of deaths under investigation or extrajudicial killings.
But all is not lost for these cases: the Northern Police District (NPD), which has jurisdiction over the city police station, has photocopies of these case folders lost to the fire, according to the Caloocan police chief Senior Superintendent Jemar Modequillo.
He denied that the fire was in any way intended to destroy pieces of evidence.
"We cannot do otherwise, except to rise from the ashes," Modequillo said.
Caloocan city fire marshall Superintendent Gary Alto said the fire reached first alarm at around 4:30 a.m. and reached fourth at around 5 a.m. It was put out an hour later.
Most of the offices in the building were razed, even though the police station is just beside the Caloocan City central fire station.
The fire spread quickly because the ceiling of the station was built with light materials like wood and plywood, Alto said.
Witnesses said the fire started between the office of the Scene of the Crime Operatives (SOCO) and the press room of the Northern Media Group.
The fire also triggered the ammunition stored in the police station. Reporters heard shots as firemen tried to put out the flames in one of the rooms.
SOCO personnel laid down the charred remains of pistols, armalites, revolvers, improvised shotguns and machine guns, which were mostly pieces of evidence lost to the fire. Even police motorcycles were charred.
Chief Inspector Ilustre Mendoza, city police deputy for administration, said the affected offices – the crime laboratory, station investigation division, finance, supply, administrative and police community relations – will be housed in the nearby police multipurpose hall.