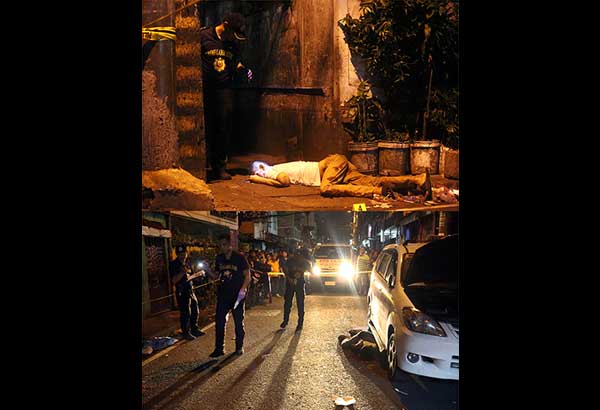 Crime scene investigators examine the body of Andi Parpan (above) and Rolando Almojela, who were killed only minutes apart along Tramo street in Pasay City Wednesday night. MIGUEL DE GUZMAN
6 drug suspects slain in Metro Manila
MANILA, Philippines — At least six suspected drug pushers and users were shot dead in various parts of Metro Manila since Wednesday as the Philippine National Police ended its Operation Plans Tokhang and Double Barrel yesterday.
Rolando Almojela and Andi Parpan were killed in front of their children by unidentified motorcycle-riding assailants on Wednesday night.
Almojela, 40, a construction worker, was standing along Tramo street with his eight-year-old son when the assailants pulled over and shot him repeatedly.
Police said the assailants fled after leaving a placard with a message that read, "Marami pa ang susunod na mamamatay, umiwas na kayo sa droga (More will die, avoid drugs)."
Almojela's family said he was previously involved in the illegal drug trade.
A few minutes after Almojela was killed, Parpan, 38, was gunned down in front of his three-year-old child by six unidentified motorcycle-riding assailants.
Closed-circuit television footage from the Barangay 48 showed Parpan was standing with two other men along Tramo street when the assailants stopped and shot him.
Bullet casings from 9mm and .45 caliber pistols were recovered from both crime scenes.
Barangay chairman Fernando Eusebio said Parpan, who previously surrendered to the police, was known as a drug runner.
In Malabon, tricycle driver Enrico Bernal, 33, was shot dead Wednesday night.
Bernal, who was released from jail five months ago after the drug charge against him was dismissed, was walking with his partner Ethelyn Suay in front of the Hulong Duhat public market when an unidentified man approached him from behind and shot him twice in the head.
Authorities said the victim reportedly continued to be involved in the illegal drug trade.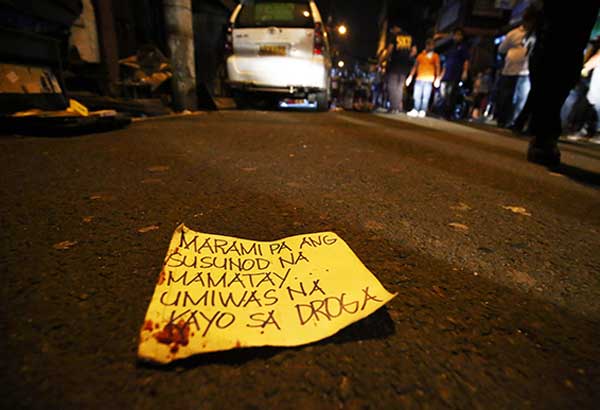 Photo shows a placard left by the assailants near Almojela's body. MIGUEL DE GUZMAN
No camera, no proof
In Manila, Rolando Campo, 50; Sherwin Bitas, 34, and a man identified only as Kalbo were killed in a shootout during a drug sting in Tondo on Wednesday.
Prior to the operation, men were seen tampering with a CCTV camera at the corner of Sta. Barbara and Kagitingan streets, according to GMA News.
The three men reportedly shot at the police officers, triggering a firefight, according to a police report.
Campo's daughter, Ladylyn, told GMA News that her father was washing clothes when armed men suddenly grabbed him and ordered her to leave.
Campo's granddaughter said the assailants shot him in the chest as she pleaded for his life. – With Rey Galupo, Ghio Ong