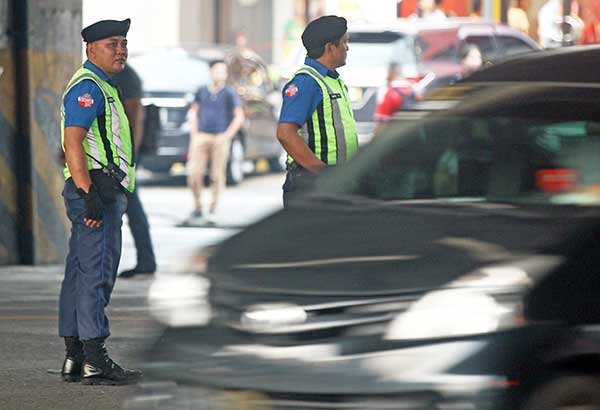 MMDA enforcers sport black berets and reflective vests as part of their uniform as they direct traffic along EDSA in Quezon City yesterday. MIGUEL DE GUZMAN
MMDA enforcers get black berets
MANILA, Philippines - From wearing a close-fitting cap with a visor, traffic constables of the Metropolitan Manila Development Authority (MMDA) are now wearing black berets – headgear commonly worn by police officers and soldiers – in a bid to spruce up the agency's image.
Roy Taguinod, head of the MMDA's Traffic Discipline Office (TDO), said traffic constables started wearing the beret more than two weeks after members of their uniform selection board agreed to replace the cap.
The uniform selection board, composed of personnel from different divisions of the MMDA, is tasked to look into improving the traffic constable's uniform, according to Taguinod.
"A traffic enforcer wearing a beret will be proud of himself and will value his uniform. Because this is now part of their uniform so they need to look snappy... So if you feel good, you look good, then you do good in the performance of your duty," Taguinod said.
He said the agency initially issued over 2,000 berets to traffic enforcers and members of the MMDA band.
The MMDA purchased the berets at P50 each from the same firm supplying the agency's uniforms, Taguinod said, but did not name the firm.
He said the MMDA will soon issue black berets to enforcers of the policies against jaywalking and littering, among others.
No laws violated
Wearing the beret boosted the morale of traffic constables because they started dressing better as well, according to Taguinod.
"We've been receiving good feedbacks from social media that the motorists became disciplined because they saw our enforcers looking snappy," he said.
Taguinod said providing traffic enforcers with berets was inspired by MMDA Chairman Danilo Lim, a former chief of the Philippine Army's First Scout Ranger Regiment.
Responding to criticism that the MMDA disrespected the soldiers and police officers who worked hard to earn a beret – only members of elite units can wear one – Taguinod said "there is no exclusivity" to its use.
He said the MMDA is not violating any law when it allowed its traffic enforcers to wear the beret because Lim wants them to perform well and be disciplined.
"That is all he wants to do. I don't think it is a show of disrespect," Taguinod said.
Taguinod's explanation, however, did not sit well with some traffic enforcers, who complained about wearing the beret.
A traffic constable, who requested anonymity for fearing of losing his job, said he does not like the beret because the cap that used to be part of their uniform has a visor that protects their eyes from the sun's rays.
Another constable said that beret is warmer compared with the cap.
But as far as Taguinod is concerned, he said the beret is more convenient to wear because they are lighter and adjustable.