Groups hail historic climate fund deal, angry over lack of progress on emissions
November 21, 2022 | 4:28pm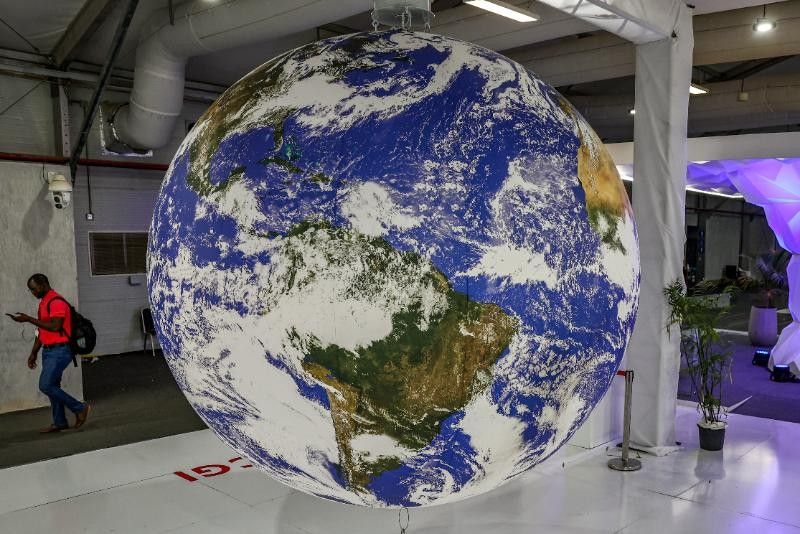 MANILA, Philippines — The creation of a "loss and damage" fund after two weeks of fraught negotiations in the Egyptian city of Sharm El-Sheikh is an important win for poor nations ravaged by strong cyclones, devastating flooding, extreme droughts and sea level rise, Filipino campaigners said.
After intense and round-the-clock negotiations, delegates to COP27 agreed early Sunday to set up a fund to help vulnerable nations battered by climate disasters.
Three decades ago, developed countries and small island states that contribute little to the pollution heating the planet began calling for compensation for the damage caused by climate change. Countries that got rich from burning fossil fuels had resisted the creation of a funding facility for fear of climate liability.
"The agreement for a Loss and Damage Finance Fund marks a new dawn for climate justice. Governments have laid the cornerstone of a new and long-overdue fund to deliver vital support to vulnerable countries and communities who are already being devastated by the accelerating climate crisis," said Yeb Saño, Greenpeace Southeast Asia executive director and head of the Greenpeace delegation to COP27.
"This win is the result of the persistent struggle of civil society and peoples' movements to hold developed countries to account for a crisis wealthiest economies have historically created," said Ivan Enrile, climate justice program manager of IBON International.
Countries also agreed on the institutional arrangements to operationalize the Santiago Network, which will provide technical assistance to developing countries that are particularly vulnerable to adverse climate change impacts.
Urgent action needed
It will likely take several years to hammer out details of the fund for climate victims such as the timelines for establishing the facility and the sources of funding.
"With the most vulnerable nations continuing to experience climate-related disasters and being projected to do so in the near-future, the urgency of forming the L&D funding facility to provide support for high-risk communities cannot be understated," Aksyon Klima Pilipinas said.
Enrile said the funds must be grants-based, "with no colonial conditionalities attached."
Saño also pointed out that the countries and corporations most responsible for the climate crisis make the biggest contribution to the funding facility.
"This means new and additional finance for developing countries and climate vulnerable communities not just for loss and damage but also for adaptation and mitigation," the former climate negotiator said, adding that developed countries must make good on the existing $100 billion per year pledge to support low-income countries in cutting their emissions and bolstering their defenses against climate impacts.
No progress on emission cuts
While this year's climate talks closed with a breakthrough agreement to provide loss and damage funding, the summit failed to make progress on cutting emissions.
The COP27 deal included language on renewable energy for the first time, while reiterating calls from the COP26 pact in Glasgow to accelerate "efforts towards the phasedown of unabated coal power and phaseout of inefficient fuel subsidies."
Groups stressed that capping global warming to 1.5 degrees Celsius from pre-industrial levels is impossible without drastic reductions in greenhouse gas emissions and the use of all fossil fuels, including oil and gas.
"Such gains on the loss and damage conversation is undermined by a COP that ultimately fails to signal the phaseout of all fossil fuels. It will be no different to prescribing medicine to relieve pain for a sick person without addressing the root cause of his sickness," said Gerry Arances, executive director of the Center for Energy, Ecology, and Development.
"No matter how much the Philippines adapts or tries to be resilient, if GHGs keep being emitted at their current levels, global temperatures will still increase and trigger more extreme and destructive impacts," Aksyon Klima Pilipinas said.
Political will, commitment
Aksyon Klima Pilipinas also questioned the "lack of bold statements" by the Philippine delegation to COP27 on fossil fuel phaseout.
"It is alarming for the Philippines to either remain silent or keep supporting even more usage of the same fossil fuels that are clearly harming its people. It also points to the inconsistent, contradictory policy direction of the current administration on a rapid, just and equitable energy transition and climate action, which needs to be addressed in the upcoming months," it said.
DENR Secretary Maria Antonia Yulo-Loyzaga — head of the Philippine delegation — and Climate Change Commission Secretary Robert Borje left Egypt before the end of the negotiations to attend hearings for the 2023 national budget.
Marcos earlier said that increasing the use of renewable energy sources is at the top of the government's climate agenda. But he is also pushing for nuclear and fossil gas — energy sources that groups said will impede the transition to a low-carbon future.
Aksyon Klima Pilipinas also emphasized that "tremendous political will and sustained commitment" by decision makers are needed to translate the outcomes of COP27 to national and local context.
"As we have seen on the national or global level, weak commitments lead to poor implementation. And the ones who bear the burden of its effects are the most vulnerable," it said.