Cops rescue over 1,000 trafficking victims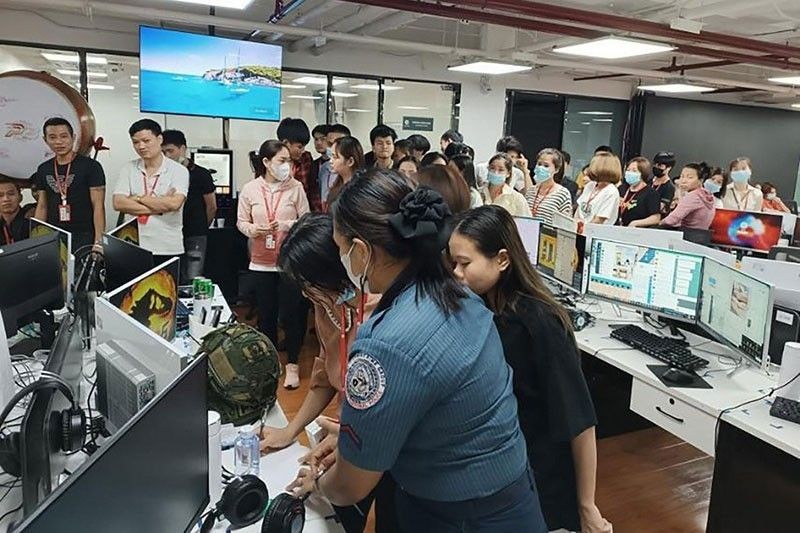 MANILA, Philippines — The Philippine National Police (PNP) have rescued over a thousand people from several Asian nations who were trafficked into the country, held captive and forced to run online scams, an official said yesterday.
It also arrested at least 12 suspected ringleaders who are believed to be maintainers of the Colorful and Leap Group Co., which is allegedly involved in fraudulent activities. They were subjected to an inquest proceeding for human trafficking before the Department of Justice in Manila.
International alarm has grown in recent months over internet scams in the region often staffed by trafficking victims tricked or coerced into promoting bogus crypto investments.
Michelle Sabino, PNP anti-cybercrime group (ACG) spokesperson, said teams from several police units raided a cluster of buildings Thursday in Mabalacat city in Pampanga and rescued a total of 1,090 people who had been recruited to run online scams.
The victims, she noted, readily accepted the job after they were offered free flights and accommodation. However, after the workers' arrival in the country, their passports were confiscated and they were made to work up to 18 hours a day, with salary deductions for interacting with colleagues or taking extended breaks.
"You're like a prisoner without a cell. You're not even allowed to talk to your roommates," Sabino told AFP. "They're not allowed to leave outside the bounds of the gate. After 18 hours of work, they're brought to their dormitory."
She added that the victims were forced to target unsuspecting people in the United States, Europe and Canada.
The victims were mostly Vietnamese (389), Chinese (307), Filipinos (171) and Indonesians (143). There were also 40 nationals from Nepal, 25 from Malaysia, seven from Myanmar, five from Thailand, two from Taiwan and one from Hong Kong.
Sabino said these workers were trained to entice strangers into buying cryptocurrency or depositing money into bogus bank accounts after establishing fake romantic relationships.
"They will build up a promise of a good future together. Let's buy a house, buy a car, let's invest money or let's do business together," she said.
Sabino noted that the police operation was the result of a plea by the Indonesian ambassador in Manila for help in locating their distressed nationals.
This prompted the PNP to create a joint team from its units – the ACG, Intelligence Group and Special Action Force – for a raid of the Colorful and Leap office in Pampanga province.
Representatives from the Philippine Anti-Organized Crime Commission, Department of Justice, Department of Social Welfare and Development, Bureau of Immigration and Inter-Agency Council on Anti-Trafficking were also present during the operation.
Sabino said the 12 suspected ringleaders would be charged with human trafficking. They include seven Chinese nationals, four Indonesians and a Malaysian.
More rescued
In a separate raid in Parañaque City yesterday, the PNP rescued 43 foreigners, including seven women, who were held inside a building in Barangay Tambo.
Southern Police District (SPD) director Brig. Gen. Kirby John Kraft said the victims – 40 Indonesians and three Malaysians – were freed from their captors in the early morning raid.
Kraft said seven suspected syndicate members were arrested. He identified them as Chinese nationals Guo Jinxie, Zhangsiao Feng and Loi Shing-Hung; Indonesians Chalvin Abetnego, Micheal Aodi, and a certain Joppy; and Malaysian Ong Kok Siang.
The PNP, he added, is preparing charges for serious illegal detention and violation of Republic Act 10364 or the Expanded Anti-Trafficking Act.
An investigation is underway to find out how long the victims have been staying in the country. The victims were brought to the SPD headquarters in Taguig City for debriefing. – AFP