MIAA bares terminal reassignments
November 27, 2022 | 12:00am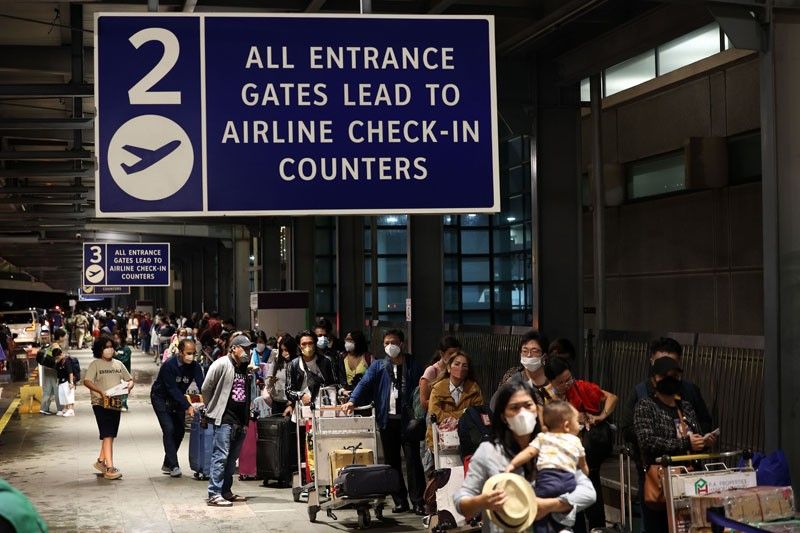 MANILA, Philippines — There will be major terminal reassignments aimed at addressing passenger congestion at the Ninoy Aquino International Airport (NAIA) Terminals 2 and 4, the Manila International Airport Authority (MIAA) announced yesterday.
Starting Dec. 1, Philippine Airlines (PAL) flights to and from the United States, Canada, the Middle East and Bali (Denpasar) will transfer to the NAIA Terminal 1 from NAIA Terminal 2.
PAL flights to other international and domestic destinations, on the other hand, shall remain at NAIA Terminal 2.
The move is timely as NAIA expects a surge in passenger volume in the coming weeks.
MIAA general manager Cesar Chiong said that in view of the transfer, about 7,000 passengers daily will be moving to Terminal 1 where the average passenger volume currently stands at 13,000 per day.
"NAIA Terminal 1 is currently operating at 30-percent capacity of its pre-pandemic level. An additional 7,000 passengers added to its daily passenger volume is manageable," Chiong said.
The MIAA emphasized that the check-in procedures employed at NAIA Terminal 2 will be retained and implemented at NAIA Terminal 1. US bound passengers are still advised to give ample time for TSA-mandated secondary checks and other security inspections as a requirement for all US bound flights.
For PAL passengers arriving at NAIA Terminal 1 who have connecting flights at NAIA Terminal 2, the airline will provide shuttle service for them, while others with connecting international or domestic flights at NAIA Terminals 3 and 4 may take the complimentary MIAA shuttle service to bring them to the assigned terminals.
Starting Dec. 16, AirAsia flights to and from Cebu and Caticlan will be transferred from NAIA Terminal 4 to NAIA Terminal 3.
This would shift 40 percent of AirAsia's daily passenger volume from NAIA Terminal 4, thereby improving the situation at the terminal's pre-departure area where congestion is usually observed.
Chiong strongly urged PAL and AirAsia to strictly abide by their slot schedules to avoid consequential delays if their first flight for the day fails to leave on time.
"This is really where the problem will arise so I urge you to always be mindful of your on-time performance," he said during a meeting with the two airline companies.
He also urged them to ensure maximum deployment of their ground personnel and guarantee good working condition of their aircraft and ground equipment.