Palace defends Bongbong Marcos trip to Singapore
October 5, 2022 | 12:00am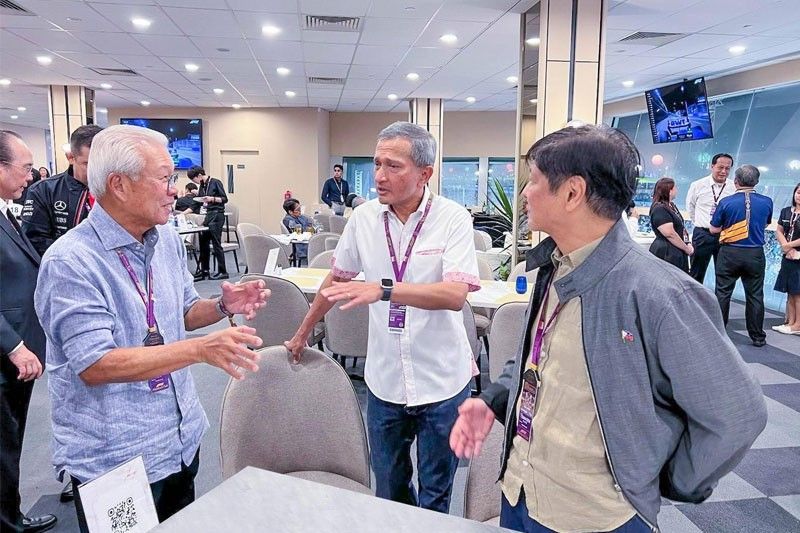 MANILA, Philippines — President Marcos broke his silence on his much-criticized weekend trip to Singapore to watch the Formula 1 Grand Prix, saying that his trip was intended to drum up business.
In a Facebook post on Monday night, Marcos said his trip to Singapore was very productive.
"They say that playing golf is the best way to drum up business, but I say it's Formula 1," the President said.
"What a productive weekend! It was fulfilling to have been invited alongside several dignitaries and to have met new business friends who showed that they are ready and willing to invest in the Philippines," he added.
Aside from Marcos, other foreign leaders and dignitaries who watched the Formula 1 Grand Prix include Palau President Surangel Whipps Jr., Cambodia's minister attached to the Prime Minister and managing director of Electricite Du Cambodge Keo Rottanak, Cambodian commerce minister Pan Sorasak and Saudi Arabia advisor to the Royal Court Dr. Fahad Bin Abdullah Toonsi.
In a Facebook post, Singaporean minister for manpower Tan See Leng said he and the leaders talked about bilateral ties, collaborations in energy cooperation and manpower policies on the sidelines of the race.
Malacañang also defended the President, saying that he still performed his function as Chief Executive and is entitled to his private time.
Speaking to reporters, Executive Secretary Lucas Bersamin said Marcos met with "many people who were very relevant to our business activities or the running of our government" and that the funding source for the trip is "irrelevant."
"We do not have direct knowledge on how it was funded, but I am sure if that was the trip of the President, you don't need to be too particular about where the funds were sourced because he was still performing his job as President when he was abroad, although that is not an official state visit," Bersamin, a former chief justice, said.
Bersamin said the trip, which critics claimed was insensitive to the plight of people who were affected by Super Typhoon Karding, was not "immodest. It's not contrary to morals, it's private time."
"Let's assume that it is his private time because he chose to go there for a specific purpose, to watch (the motor race), that was his primary (purpose). But he could go there also for other purposes, equally important. You may not call that a state visit. Nonetheless, it's not any less covered by that law which holds great importance and value to the welfare of the First Family," he added.
On what concrete benefits have been reaped from the trip, Bersamin said it was too early to tell.