Bill seeks fixed salaries for bus drivers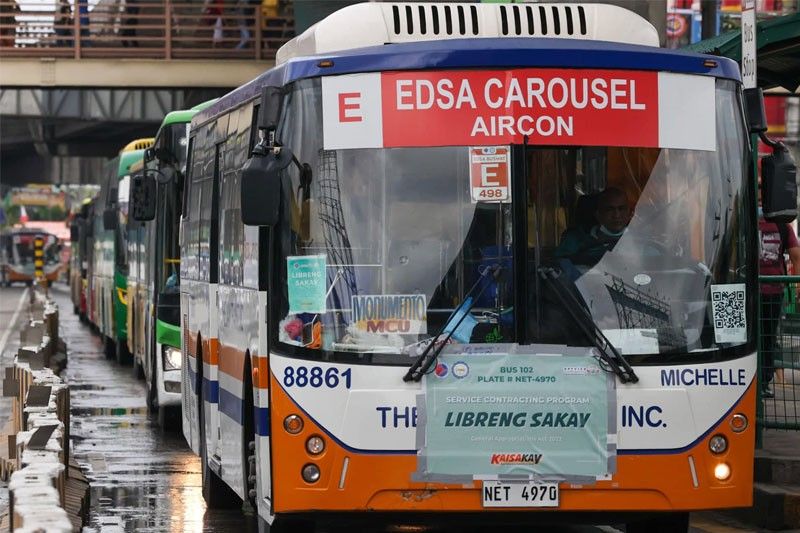 MANILA, Philippines — Fixed salaries for bus drivers, social welfare benefits for public utility vehicle (PUV) drivers and the protection of rights of food delivery riders and drivers are measures that the Senate would be looking into.
Sen. Jinggoy Estrada has filed Senate Bill No. 48 in seeking to shield bus drivers and conductors from the impact of rising fuel prices as well as having all PUV drivers enjoy social welfare service benefits and other livelihood assistance.
"With the assurance of fixed salaries on a regular basis, PUB (public utility bus) drivers and conductors will no longer be pressured or be forced to work beyond humane working hours. Serious accidents and traffic problems involving those buses will also be significantly lessened," Estrada said.
His proposed Bus Drivers and Conductors Compensation Act claims that a "simple computation" would show that bus drivers earn P900 for a 12-hour day at a frequency of three days a week, which is "almost the same income based on the minimum wage for those working eight hours a day for six days."
"The difference is that under this proposed legislation, drivers will get enough rest while operators will spend almost the same amount for salaries," said Estrada, adding that under his bill, no driver shall be made to drive more than eight hours straight or receive a salary less than the minimum wage.
He also said that PUV drivers should be covered by the Social Security System, the Philippine Health Insurance Corp., the Home Development Mutual Fund or Pag-IBIG and the Employees Compensation Commission.
Estrada also filed Senate Bill No. 289, the proposed Comprehensive Assistance Program for Public Utility Vehicles Drivers Act, whereby PUV operators are mandated to pay the equivalent amount of the monthly contribution paid for by the PUV drivers in the mentioned social welfare services.
The senator said livelihood and credit assistance will also be available to help augment the family income of PUV drivers.
His bill proposes that the Land Transportation Office Office of the Transport Cooperative, in coordination with the Cooperative Development Authority and other concerned agencies, shall formulate and implement a comprehensive livelihood and credit assistance program for all PUV drivers.
Meanwhile, Sen. Lito Lapid is pushing for a measure seeking to protect riders and drivers engaged in food, grocery and pharmacy delivery services from fraudulent and bogus customers.
Lapid said the proposed measure aims to ascertain whether the rights of the delivery riders or drivers are respected and whether the obligations imposed to food, grocery and pharmacy delivery service providers are fulfilled.
He noted that the proposed measure prohibits any food, grocery and pharmacy delivery service providers to require delivery riders or drivers to advance any monetary amount for the fulfillment of orders.
The senator cited this practice as problematic since "some of these cancelling customers cannot be traced and be held accountable for collection as they use fake names, contact numbers and/or addresses."
"In case/s of cancellation of confirmed orders, the service provider shall pay the delivery riders or drivers for the service fee due them as if the transaction was successful. In turn, it shall be the duty of service providers to pursue claims for collection from its cancelling customers," Lapid's bill stated.
"In the proposal that I have been promoting, not only the service providers are responsible for canceled orders but also the customers," he said.