TOYM Awards: JCI Phl to honor young, tireless achievers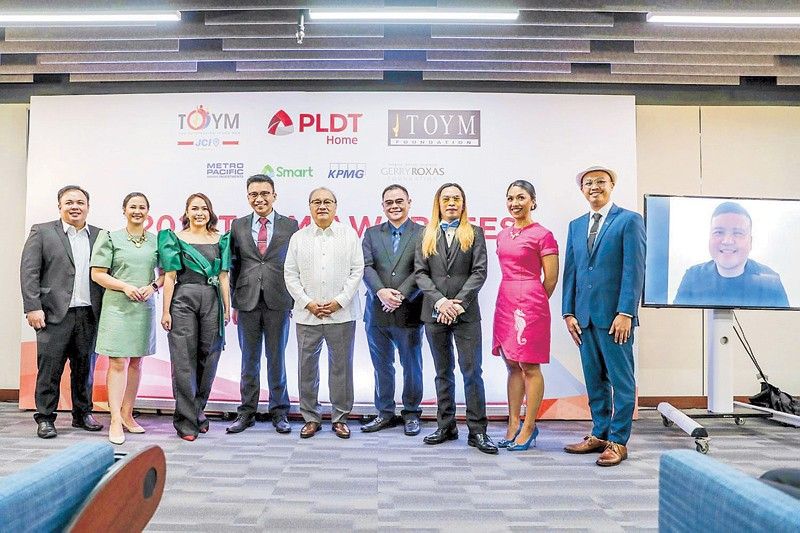 MANILA, Philippines — The Junior Chamber International (JCI) Philippines will hold The Outstanding Young Men (TOYM) Awards on April 8 to recognize exceptional young Filipinos who not only achieved professional excellence in their chosen fields, but also tirelessly worked toward inspiring meaningful positive change in society.
TOYM is an annual national recognition awarded to Filipinos between 18 to 40 years of age who have made significant contributions to their field or community.
"We at TOYM empower the youth to make waves of progress for themselves, our communities and ultimately our country," said TOYM president and Metro Pacific Investments Corp.'s chief finance, risk and sustainability officer Chaye Cabal-Revilla. "The MVP Group continues to provide its unwavering support to TOYM through our Gabay Kabataan advocacy because of this shared vision of a sustainable
Philippines, one that can best be ushered in by these bright young leaders."
TOYM Awardees for 2021 are Ariestelo Asilo for Social Entrepreneurship; Iloisa Romaraog-Diga for Agricultural Entrepreneurship; Eleazar Abraham "Abe" Orobio for Education and Culture; Anna Oposa for Environmental Marine Conservation; Jayeel Cornelio for Education: Sociology; Maria Yzabell Angel Palma for Science and Technology; Jaime Alfonso Aherrera for Medicine: Cardiology; Lou Sabrina Ongkiko for Education and the Academe; Jaemark Tordecilla for Digital Journalism and Melvin Sanicas for Medicine.
"This year's awardees and the commendable success they achieved in both their professional and personal lives serve as a testament to the bright future that the younger generation can lead us towards, when they are given the opportunity to do so," said TOYM Foundation Inc. chairman and Rustan's president Bienvenido "Donnie" Tantoco III.
With TOYM Foundation and JCI Philippines, the much-anticipated event will be graced by different personalities including past JCI national presidents, JCI national board, JCI local chapter presidents and TOYM awardees and families. Key sponsors include Metro Pacific Investments Corporation, PLDT Home, Smart, KPMG and the Gerry Roxas Foundation.
"Our support for this program and the individuals they continue to recognize is built upon our belief that the Filipino youth are more than capable of mobilizing change across all sectors," says PLDT Home senior vice president and head Menardo "Butch" Jimenez.
With its 62 years of existence, this flagship project of JCI Philippines has become an institution, having developed a reputation for its selectiveness of outstanding young men and women, whose selfless dedication to their profession or vocation has resulted in significant contribution to the welfare of their countrymen, as well as the advancement of their fields of endeavor.
"This year's theme – 'Everyday heroes enabling extraordinary impact' – echoes the TOYM's long history of celebrating the immense leadership potential of the Filipino youth in their own communities," said JCI national president Jude Acidre. "It is most heartening to realize that even when we face a crisis caused by this pandemic, many young people still care enough to make a difference not just for themselves, but also for our shared goal of building a more resilient and transformed nation."
JCI Philippines has effectively promoted leadership and exemplary innovation among the youth, showcased through their service to the community and the nation, their professional excellence and untarnished integrity and their exemplary leadership.
These qualities serve as the basis and measure in the selection of the honorees, whose words and actions demonstrated their selfless dedication, innovativeness and pioneering spirit.
"We acknowledge and encourage the transformative power that our Filipino youth hold, especially when it comes to making positive, progressive change across the country's social landscape. Recognizing their endeavors will hopefully strengthen their commitment towards helping develop a better, brighter tomorrow for us all," said MPIC and PLDT chairman Manuel V. Pangilinan.
The TOYM awards is a concrete expression of JCI's mission to provide development opportunities that empower young people to create positive change. By recognizing outstanding young Filipinos, the TOYM hopes to highlight inspiring examples that will motivate the younger generations to attain greater heights of personal achievement and professional accomplishment, in the spirit of selfless service to humanity.