Comelec calls on candidates to be more decisive in joining debates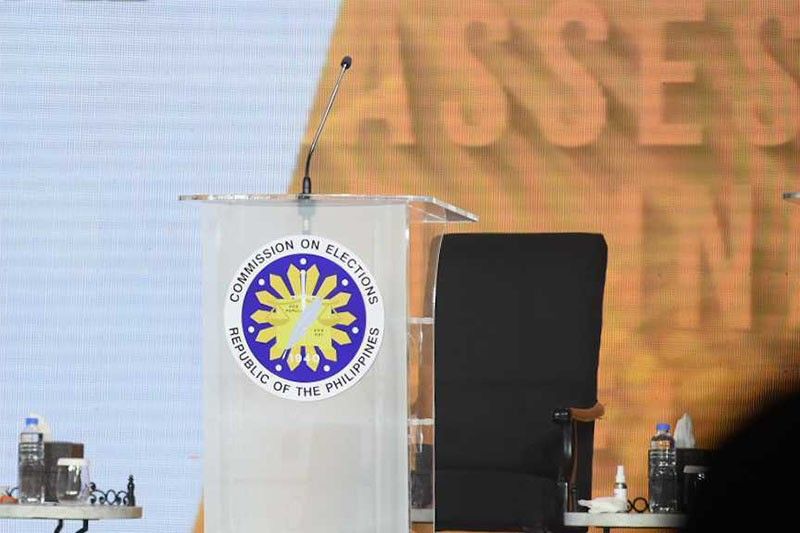 MANILA, Philippines — 2022 national posts candidates must inform the Commission on Elections the soonest on whether they will attend or back out of the debates and forums they are hosting.
The Comelec on Saturday held its first presidential debate, with only nine out of ten candidates in attendance.
Comelec Commissioner George Garcia, who was in charge of the event, said they would rather have the candidates inform them early of their decision to participate.
"In the future, we are requesting, those who want to participate in the next or those who want to back out, if any, convey your intention to use so we can at least prepare," he told reporters in Filipino.
The Comelec will hold the debates for vice presidential aspirants on March 20, and another presidential debate on April 3. They will also hold a presidential town hall debate on April 23 and one vice presidential town hall debate on April 24.
Comelec spokesperson James Jimenez said earlier this week that they will not turn away the last-minute participants to their debate, even if they show up just on that day.
On the stage, ten podiums were set up, including an empty one for Partido Federal ng Pilipinas standard-bearer and survey frontrunner Ferdinand "Bongbong" Marcos Jr. who opted to hold a proclamation rally in Marikina City on the same day.
Although Marcos was absent in the Comelec's debates, he had a pre-recorded interview with Erwin Tulfo and Presidential Communications Secretary Martin Andanar an hour and a half before the poll body's program started.
Marcos, through his spokesperson Vic Rodriguez, said they "shall continue their preferred mode of direct communication with the people and engage them in a more personal face-to-face interaction."
They also earlier said they consider the format of the event before they agreed to participate, since they prefer formats where candidates will not be pitted against each other although they did attend the debate hosted by SMNI.
Bets dance around Marcos' absence
Other presidential bets, however, chose to distance themselves with the absence of the survey frontrunner Marcos.
Presidential candidate Jose Montemayor Jr. said it was Marcos' decision not to attend and that should not affect the outcome of the debates.
Sen. Panfilo Lacson, meanwhile, said debates are important as these will show the competence of candidates to voters.
Asked about a fellow aspirant skipping the debate, Lacson said he can only speak for himself.
Press issues advocate Freedom For Media Freedom for All, and a number of newsrooms and practitioners, in February urged candidates to join forums and debates.
While they recognized that aspirants have to right to not join, "such refusal is a disservice to voters who want fuller discussions on how candidates plan to address issues and crises like the pandemic, the West Philippine Sea dispute and the economy." — Kristine Joy Patag with reports from Franco Luna