EUAs for third dose, boosters out next week
October 28, 2021 | 12:00am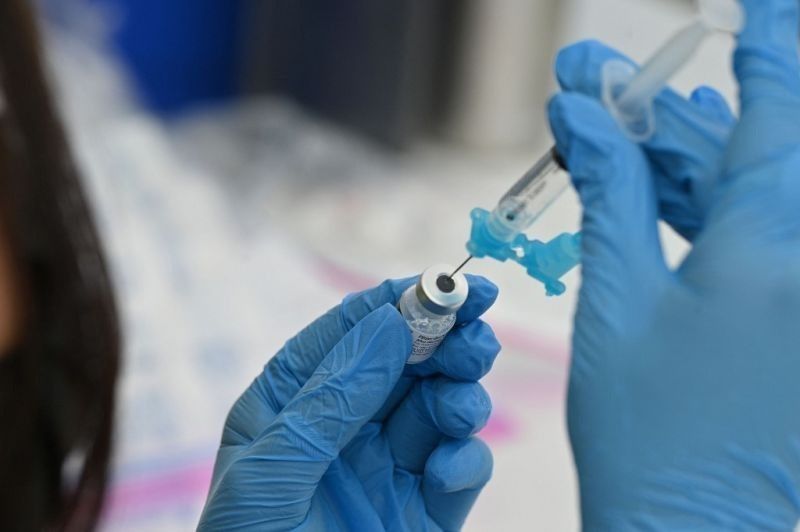 MANILA, Philippines — The Food and Drug Administration (FDA) is likely to come out next week with an emergency use authority (EUA) for vaccines to be used as a third dose for individuals fully vaccinated against COVID-19.
In an interview with "The Chiefs" on Cignal TV's One News/TV5 on Tuesday night, FDA director general Eric Domingo said he has given experts a week to review data and come out with a recommendation on the Department of Health (DOH)'s request for amendments on existing EUAs of vaccines used in the country.
"We are collecting data on third dose, whether monoguous or heterologous – meaning different vaccines – to see which has acceptable and safety efficacy levels that we could use on our health care workers and high-risk groups that need the extra dose," Domingo said in a mix of English and Filipino.
He said he received the letter-request from the DOH on Monday and, in turn, gave experts one week from Tuesday to examine it and give their recommendation.
At the request of the DOH, the FDA is looking at eight possible combinations – either the same or another vaccine – for the third dose.
Domingo said there are numerous studies, but smaller ones involving a limited number of participants compared to original data submitted for the first EUA application.
The primary consideration of the FDA in deciding whether to grant the DOH's request is the safety as well as the efficacy of giving a third dose.
"We are examining if there would be no safety problems, especially if you are crossing to another brand," Domingo said. "Second is efficacy – whether it adds value to people who are at high risk of getting severe COVID and then dying."
He said rare side effects have not been seen so far, as shown by the studies on individuals receiving a third dose.
But the FDA chief stressed that the studies involved only a few participants. "This is what I'm driving at – we're being careful. We put all these studies together and see if there really are no safety signals," he said.
At present, the FDA is closely monitoring the incidence of breakthrough infections among those fully vaccinated to determine the need to provide a third jab.
"We're currently monitoring if breakthrough infections are increasing. We're checking because we don't want to reach that point," said Domingo, adding that the third dose will then have to be given in order to stop that from happening.
Still, the government needs to balance the urgency to provide a third dose to a fully vaccinated individual as against prioritizing the big number of Filipinos who have yet to receive their first dose, he added.
Expert's opinion
For infectious diseases and vaccine expert Dr. Rontgene Solante, a third dose or booster shot of any brand of vaccine can provide additional protection against COVID-19 infection.
Speaking at yesterday's Laging Handa public briefing, Solante said there are data, although limited, supporting the safety of receiving a third dose of a vaccine against COVID-19 regardless of brand.
"We still do not have real world effectiveness data," he said, but added: "So far, the adverse reaction even if you do the mix and match, it's still tolerable and it's really safe."
Solante even cited how some studies showed that the mix and match of vaccines produce better results in terms of immunity, so he believes booster shots must be given regardless of the brand.
"What I believe is that there should be no preference at this point in time as long as any of these vaccines, whether it's a mix and match or homologous, they can be boosted," he said.
Solante added that there should be an additional allocation for booster shots, even only for health care workers since they are only a few, especially those assigned to COVID centers.
The wait Meantime, the government has to wait for the guidelines on administering booster shots from the World Health Organization (WHO), according to National Task Force against COVID-19 chief implementer and vaccine czar Carlito Galvez Jr.
Interviewed by CNN Philippines yesterday, Galvez said: "We are waiting on WHO-SAID policy on mixing vaccine brands for boosters. We expect guidance on boosters from WHO by Nov. 15."
"We will have the third dose. We will increase by this November. We have a big chance that we will get the 1 million to 1.5 million jabs every day. I'm very confident of that," Galvez added.
He said they are following the directive of the President to make a sweep of different barangays. "We will bring the vaccines to them," he said.
He also assured the public that the NTF is one with the DOH and IATF in pushing for the administration of booster shots for health care workers.
"Once we vaccinate all our health care workers with booster shots, they will be more confident," he said. "We have to prepare our health care system."
As the government awaits the FDA's granting of the EUA amendment request of the DOH for third doses, Galvez said they have already talked to vaccine manufacturers such as Pfizer to prepare necessary documents.
Limited supply
By next year, vaccine supply worldwide may remain tight as pharmaceutical companies opt to establish fewer factories than the FDA previously expected.
"In 2022, the supply is still going to be tight particularly for the western vaccines which are fairly committed really on supplying western countries," Domingo said.
The situation may further be compounded if only one or two vaccines are able to complete clinical trials and secure full approval from the FDA.
"What we hope next year is that all of them (vaccines) complete trials and they get full approval so we get also a wide range of choices," Domingo said, stressing that the EUA it issued will be phased out once the vaccine companies are able to secure full approval.
Meanwhile, the Philippines is set to breach the 100 million mark of vaccine doses delivered to the country tonight.
In his report to President Duterte last Monday, Galvez said the country has already received 97,678,340 doses of COVID-19 vaccines and that 4.89 million more are set arrive in four days starting yesterday.
As Galvez had earlier pledged the country will meet its target of 100 million vaccine doses with only 2.5 million more jabs to go.
Last night, 976,950 Pfizer doses from the COVAX Facility were expected to arrive; this afternoon, 896,000 AstraZeneca jabs are coming in and tonight, another 976,950 doses of Pfizer are to be delivered.
All have been pre-cleared by the Bureau of Customs at the Ninoy Aquino International Airport.
Out of the 97,678,340 doses of COVID-19 vaccines received as of Sunday, more than 60.7 million doses were procured by the government, 24.3 million doses were donations from COVAX, 7.9 million purchased by local government units and the private sector and 4.6 million doses were donations from bilateral partners.
"We have established good relationships with other countries and many of them are helping us," Galvez stressed in his report to Duterte. – Rudy Santos, Jose Rodel Clapano