Philippines OKs new quarantine protocols for travelers from 'green, yellow' countries
October 8, 2021 | 12:52pm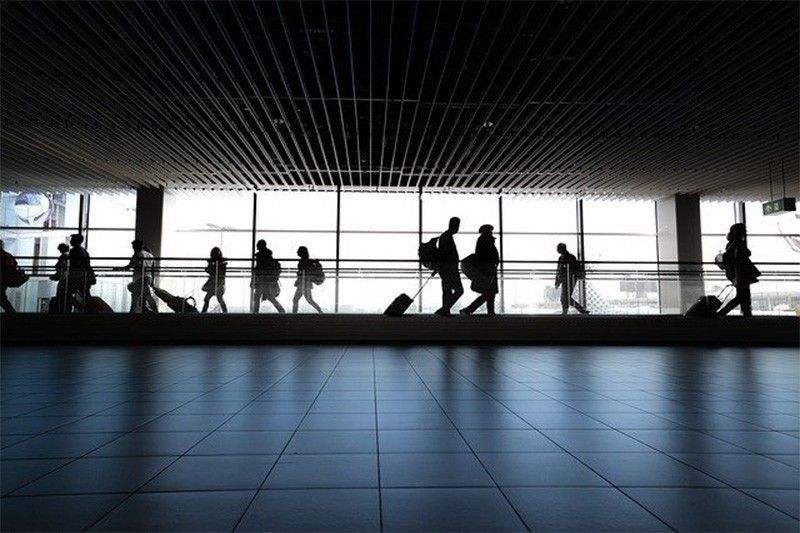 MANILA, Philippines (Updated 2:27 p.m.) — The Philippines on Friday started the implementation of shorter quarantine protocols for international travelers coming from countries classified as low risk and moderate risk for COVID-19.
Fully vaccinated individuals coming from "green" (low risk) and "yellow" (moderate risk) nations and jurisdictions need to undergo facility-based quarantine until the release of their negative RT-PCR test results taken on the fifth day, presidential spokesperson Harry Roque said.
They will then be required to undergo home quarantine until their 10th day. The day of their arrival will be considered their first day.
Meanwhile, unvaccinated, partially vaccinated, or individuals whose vaccination status cannot be independently verified or confirmed as valid or authentic by local authorities coming from "green" or "yellow" countries will undergo facility-based quarantine until the release of the RT-PCR taken on the seventh day.
After that, they need to undergo home quarantine until their 14th day.
Foreign nationals are required to secure their own pre-booked accommodation of at least six days for the fully inoculated, and at least eight days for the unvaccinated, the partially vaccinated, and individuals who vaccination status cannot be independently confirmed as valid or authentic.
Here is a list of documents that will be accepted to verify or confirm a person's vaccination status:
Certification from the Philippine Overseas Labor Office in the country of origin for overseas Filipino workers and their spouses, parents and/or children traveling with them

VaxCert digital vaccination certificate or Bureau of Quarantine-issued International Certificate of Vaccination or Prophylaxis (ICV) for Filipinos or foreigners fully vaccinated in the Philippines

National digital certificate of the foreign government which accepted VaxCertPH under a reciprocal arrangement or BOQ-issued ICV for non-OFWs and foreigners fully vaccinated abroad
Here is a list of "red," "yellow" and "green" countries:
Red list
Green list
American Samoa
Burkina Faso
Cameroon
Cayman Islands
Chad
China (mainland)
Comoros
Republic of the Congo
Djibouti
Falkland Islands (Malvinas)
Hungary
Madagascar
Mali
Federated States of Micronesia
Montserrat
New Zealand
Niger
Northern Mariana Islands
Palau
Poland
Saba (Special Municipality of the Kingdom of Netherlands)
Saint Pierre and Miquelon
Sierra Leone
Sint Eustatius
Taiwan
Algeria
Bhutan
Cook Islands
Eritrea
Kiribati
Marshall Islands
Nauru
Nicaragua
Niue
North Korea
Saint Helena
Samoa
Solomon Islands
Sudan
Syria
Tajikistan
Tanzania
Tokelau
Tonga
Turkmenistan
Tuvalu
Uzbekistan
Vanuatu
Yemen
Yellow list
All other countries and territories
Shorter quarantine for fully vaccinated travelers
The business sector's call to relax the health protocols for travelers, especially for the fully vaccinated, was meant to help boost tourism and ramp up economic activity.
Joey Concepcion, presidential adviser for entrepreneurship, lauded the government's decision to grant shortened quarantine protocols for vaccinated travelers.
"This is a great Christmas gift for Filipino families. We have lost so much lives [in] this pandemic. Now, our balikbayans can spend time with their families. They can celebrate together with extra money to spend from the hotel quarantine savings," Concepcion said.
Concepcion the sector is hoping that other areas, especially the tourist destinations, would also ease restrictions for travelers.
— Gaea Katreena Cabico
As It Happens
LATEST UPDATE: November 29, 2021 - 1:28pm
Find the latest travel and tourism news from around the world amid the coronavirus pandemic. Main image by AFP/Romeo Gacad
November 29, 2021 - 1:28pm
Singapore and Malaysia eased coronavirus travel restrictions on one of the world's busiest land borders Monday after nearly two years, allowing some vaccinated people to cross without quarantine.
Before the pandemic, about 300,000 people used to commute across the border from Malaysia every day to the neighbouring city-state, to work in areas ranging from public transport to electronics manufacturing.
But most travel was abruptly halted in March last year, leaving many who previously commuted, and other Malaysians in Singapore, effectively stuck there as they needed to continue working. -- AFP
November 29, 2021 - 9:25am
The coronavirus pandemic will cost global tourism $2.0 trillion in lost revenue in 2021, a similar amount to last year, the UN's tourism body said on Monday, calling the sector's recovery "fragile".
The forecast from the Madrid-based World Tourism Organization comes as Europe is grappling with a surge in infections and as a new heavily mutated Covid-19 variant, dubbed Omicron, spread across the globe. — AFP
November 29, 2021 - 7:43am
South Africa's President Cyril Ramaphosa on Sunday calls on countries to "urgently" reverse travel bans linked to the discovery of the new coronavirus variant Omicron.
"We call upon all those countries that have imposed travel bans on our country and our southern African sister countries to urgently reverse their decisions and lift the bans they have imposed before any further damage is done to our economies," he says in his first address to the nation following last week's detection of the new variant. — AFP
November 27, 2021 - 12:43pm
The Department of Tourism says that 75.39% or 236,714 of the total active tourism workers in the Philippines are now inoculated against COVID-19.
"We will not stop until we achieve 100% vaccination for all our active tourism workers," says Tourism Secretary Berna Romulo-Puyat.
November 26, 2021 - 3:37pm
Singapore will restrict arrivals from seven African countries, health officials say, after South Africa discovered a new Covid-19 variant with a large number of mutations.
All non-Singaporeans and people without permanent residency in the city-state who have recent travel history to the seven countries will be barred from entering or transiting through Singapore, the health ministry says.
The new restrictions, which will take effect from Sunday, apply to South Africa, Botswana, Eswatini, Lesotho, Mozambique, Namibia, and Zimbabwe, the ministry says. — AFP