Over 600K AstraZeneca jabs procured by private sector arrive in Philippines
September 17, 2021 | 11:25am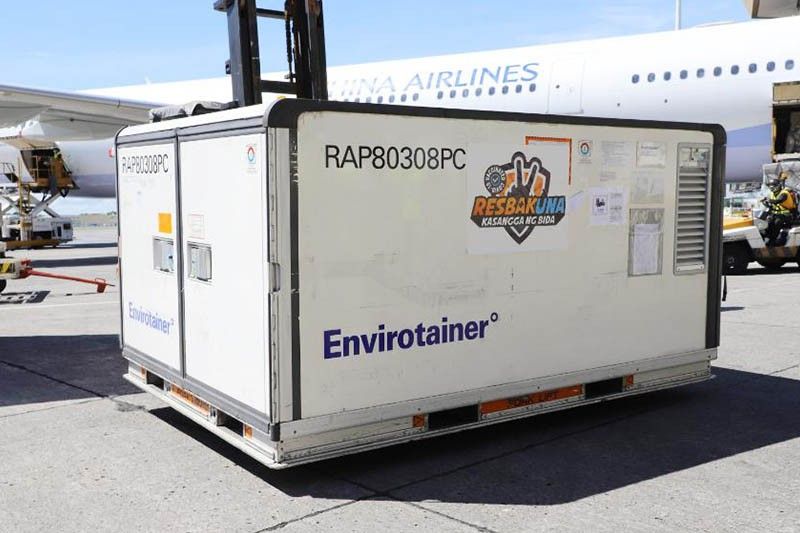 MANILA, Philippines (Updated 12:59 p.m.) — Over half a million doses of the AstraZeneca COVID-19 vaccine procured by the private sector arrived in the Philippines on Friday.
A China Airlines plane carrying 661,200 AstraZeneca jabs landed at the Ninoy Aquino International Airport in Pasay City past 9 a.m.
"Additional 300,000 people will be given lifesaving vaccines, doses of hope," vaccine czar Carlito Galvez Jr. said.
Galvez also said 80% of the newly-delivered shots will go to local government units outside Metro Manila.
The latest shipment raised the country's total COVID-19 vaccine doses to over 58.2 million.
Presidential Adviser for Entrepreneurship and Go Negosyo founder Joey Concepcion said the the arrival of the third batch of vaccines is very timely to help prevent the transmission of the Delta variant.
"We need a fast and almost perfect rollout and the private sector, with the arrival of these vaccine doses from AstraZeneca, can now do that for its employees," Concepcion said.
"We want to help the government so that we can execute the vaccine rollout in the fastest and most efficient way possible. Allowing us to execute, we could focus on the vaccination of our employees, the LGUs could focus on its constituents, and the national government could focus on the rest that are not covered," he added.
Vaccination updates
More than 40 million doses have been administered nationwide, of which around 22.3 million were given as first dose, since inoculation efforts began in March.

Over 17.6 million people have completed vaccination against COVID-19.

The government is expected to take delivery of one million doses of Sputnik Light—the one-shot version of Gamaleya Research Institute's Sputnik V COVID-19 vaccine—this month.

The government also expects to receive 190,000 doses of Sputnik V's Component 2, which will be used for the second dose. — Gaea Katreena Cabico
As It Happens
LATEST UPDATE: October 8, 2021 - 10:00am
A new thread on the Philippines' vaccination program in 2021 in the government's revised objective to reach "population protection." (Main image: The STAR/Michael Varcas, file)
October 8, 2021 - 10:00am
Another 2.1 million doses of Moderna and more than 661,100 doses of Astrazeneca COVID-19 vaccines arrive at NAIA Terminal 1 on Friday morning.
The Moderna vaccines are procured by the government while the Astrazeneca jabs were bought by the private sector.
August 23, 2021 - 12:22pm
As of August 22, about 12% of the estimated 109 million population have been vaccinated against COVID-19, according to date from the pandemic task force.
First dose: 17,258,675
Second dose: 13,130,485
Total doses administered: 30,389,160
August 20, 2021 - 10:13am
An additional 582,500 doses of AstraZeneca COVID-19 vaccine arrive at the Ninoy Aquino International Airport Friday morning.
It is part of the private sector's "A Dose of Hope" program, pioneered by Presidential Adviser for Entrepreneurship and Go Negosyo founder Joey Concepcion.
August 9, 2021 - 2:56pm
An estimated 10.45% of the 109 million Filipinos have been fully vaccinated against COVID-19 between March 1 and August 9, according to government data.
Total doses administered: 24,479,750
First dose: 13,087,781
Second dose: 11,391,969
[VACCINE ROLLOUT UPDATE: 09 August 2021]

As of 08 August 2021, 6PM, a total of 24,479,750 doses have already been administered. 13,087,781 have received their first doses while 11,391,969 have already gotten the complete protection of the COVID-19 vaccines. pic.twitter.com/wHZ7tYh10q

— Department of Health (@DOHgovph) August 9, 2021
August 3, 2021 - 5:56pm
The Philippines on Tuesday receives 3,000,060 doses of Moderna COVID-19 vaccines donated by the United States.
The latest donation is part of the P1.38 billion assistance of the US government to the Philippines since the onset of the pandemic.
Last month, more than 3 million Johnson & Johnson vaccines from the American government arrived in the country.