MMC to issue unified vaccination cards this month
August 14, 2021 | 12:00am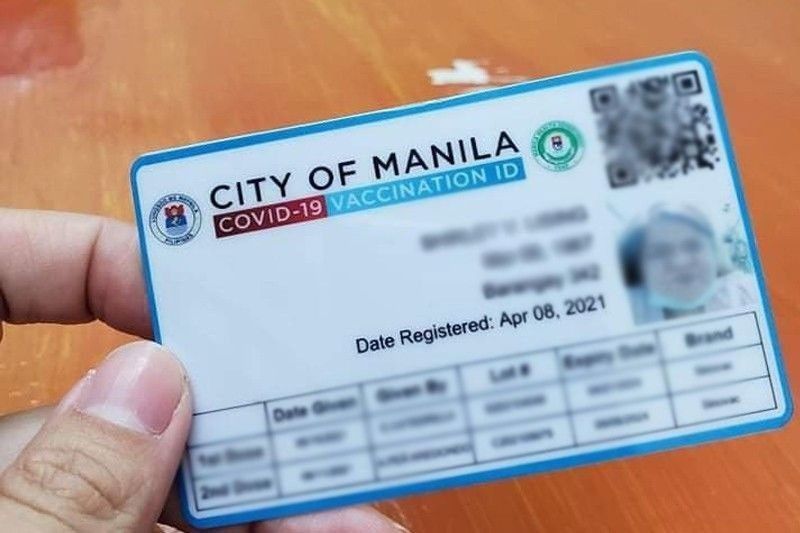 MANILA, Philippines — Local government units (LGUs) in Metro Manila are working to set up the issuance of the unified vaccination card in their localities within the month, the Metro Manila Council (MMC) said yesterday.
"We are targeting (to finish everything) this August. Within the month of August," Parañaque City Mayor and MMC chairman Edwin Olivarez said in an interview over Teleradyo.
He said LGUs are working fast to complete the digital entry of details of vaccinated residents to the Department of Information and Communications Technology (DICT).
Yesterday, the DICT said that VaxCertPH, the country's portal and mobile app for issuing vaccination certificates, is ready to go live nationwide in a few weeks.
Developed by the DICT for the Department of Health (DOH), VaxCertPH is compliant with the standards and specifications set by the World Health Organization (WHO) for certificates of vaccination against COVID-19 last July 27.
"Even prior to WHO's issuance of the standards for vaccination certificates, your DICT has already been working on the VaxCertPH in coordination with the DOH. With the new guidelines, we will continue to improve upon the current system to comply with worldwide standards," DICT Secretary Gregorio Honasan II said in a statement last Thursday.
Honasan said VaxCertPH is already up and running, but would go live nationwide only after the training of LGU operators is completed in accordance with the directives of the Inter-Agency Task Force (IATF).
The platform is highly reliant on the data submitted by LGUs through the Vaccine Information Management System (VIMS), so training operators from various LGUs on proper data entry is important to lessen the chances of data-related errors.
DICT Undersecretary for digital Philippines Emmanuel Rey Caintic said they expect the DOH to oversee the rollout of WHO standards-compliant certificates.
"The system is a DOH-owned system. DICT, as per IATF Resolution, is merely the system developer and will continue to provide technical support to DOH as in the case of all COVID systems," Caintic told The STAR.
Under the guidelines, WHO proposed the use of digital vaccination certificates documenting a person's current vaccination status as a mechanism through which COVID-19-related health data can be digitally stored via an electronic certificate for use in continuity of care or as proof of vaccination for purposes other than health care.
At present, the DICT is urging all LGUs to submit their respective line lists of vaccinated individuals through the DICT Vaccine Administration System (D-VAS) in preparation for its plan to launch digital vaccine certificates.
The D-VAS is part of the VIMS that offers automated and computerized processing of vaccination administration, improving efficiency of vaccination centers and simplifying the submission of LGU line lists to the VIMS.
The D-VAS also contains directories of vaccine recipients.
"We are reminding our LGUs to make use of the free DICT-Vaccination Administration System, which comes with assistance from our DICT field teams on efficient data capturing and submission of line lists, or their vaccination events records, to the VIMS," Honasan said.
"Our goal is to simplify everything by using digital technologies – easier vaccination procedures and even simpler certification of fully vaccinated individuals. To do this, we need the VaxCertPH to have access to complete and reliable data, and that's where the role of the D-VAS and the LGUs that would operate it come in," he said.
ECQ violators: 40,314
Meanwhile, a total of 40,314 persons have been accosted for violating curfew and other protocols under the enhanced community quarantine (ECQ) in Metro Manila from Aug. 6 to 12.
"Since the start of the ECQ implementation in Metro Manila on Aug. 6, your PNP has been accosting an average of 5,759 violators per day," Gen. Guillermo Eleazar, Philippine National Police (PNP) chief, said.
Eleazar said these violators were either apprehended, fined or warned for various infractions at 34 quarantine control points (QCPs) in the capital region.
If those from the adjoining provinces of Cavite, Laguna, Rizal and Bulacan are to be included, the number of violators stands at 134,606, he said.
Nationwide, there were 231,856 caught in 1,243 QCPS manned by 10,986 police officers.
Metropolitan Manila Development Authority Chairman Benhur Abalos urged LGUs in the capital region to work together to intensify the vaccination drive against COVID-19. – Richmond Mercurio, Rainier Allan Ronda, Emmanuel Tupas