Monsoon floods cities; thousands evacuated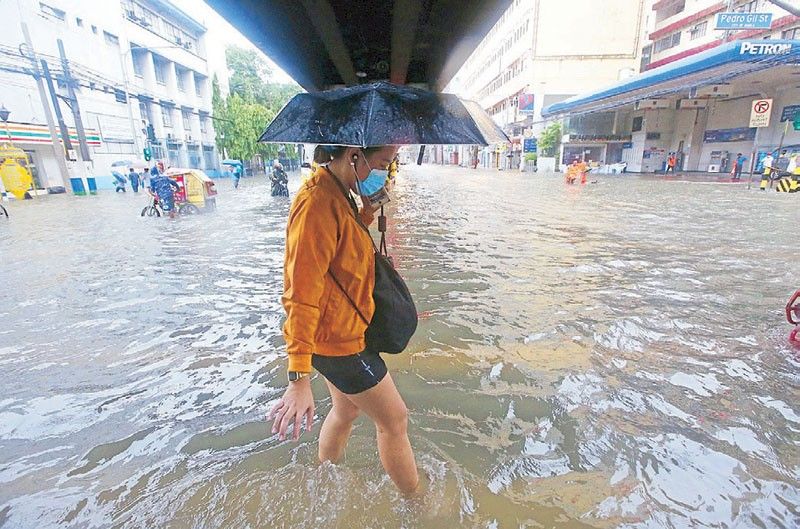 MANILA, Philippines — Authorities moved thousands of residents of Metro Manila out of their low-lying communities yesterday as heavy monsoon rain, compounded by Typhoon Fabian, flooded the capital region and nearby provinces.
The National Disaster Risk Reduction and Management Council (NDRRMC) said 14,023 people, most of them from Marikina City, were moved to evacuation centers.
A total of 3,411 families in the city were relocated to 29 evacuation centers.
In Rizal, about 1,500 individuals sought shelter in six evacuation centers in the province.
In Quezon City, some 400 families have evacuated since Friday due to flooding brought about by heavy monsoon rains. Most of the evacuees were from Barangay Bagong Silangan, with 317 families staying in five evacuation centers as of yesterday noon.
Another 20 families evacuated in Barangay Batasan Hills, 18 in Tatalon, 13 in Roxas, 10 each in Doña Imelda and Masambong, seven in Damayang Lagi, four in Holy Spirit and one in Apolonio Samson.
The city's disaster risk reduction and management council had initiated preemptive evacuation in low-lying areas in anticipation of possible flooding due to the heavy downpour.
The Ateneo de Manila University has opened its facilities to employees, faculty and students who may need to evacuate due to flooding.
Members of the university community who need temporary shelter may proceed to their respective school buildings or at the Loyola Schools area, the Ateneo said in an advisory.
The Philippine Atmospheric Geophysical Astronomical Services Administration (PAGASA) said that the southwest monsoon is seen to still bring rains over most parts of the country even with the exit of Typhoon Fabian from the Philippine area of responsibility early yesterday morning.
Moderate to heavy and at times intense rains are forecast over Metro Manila, Ilocos Region, Abra, Benguet, Tarlac, Pampanga, Bulacan, Cavite, Batangas and Mindoro provinces.
The rest of the country will also see cloudy skies with rainshowers or thunderstorms due to the monsoon.
PAGASA warned that continued rains may bring scattered to widespread flooding and rain-induced landslides, especially in high-risk areas.
"We ask residents of affected areas to remain alert and vigilant, take precautionary measures and cooperate with their respective local authorities," presidential spokesman Harry Roque said in a statement.
Harsh weather has hit several parts of the world in recent weeks, bringing floods to China, India and Western Europe and heat waves to North America, raising new fears about the impact of climate change.
The Philippines, a Southeast Asian archipelago of more than 7,600 islands, sees about 20 tropical storms a year but a warmer Pacific Ocean will make storms more powerful and bring heavier rain, meteorologists say.
The Philippines is also grappling with one of the worst outbreaks of COVID-19 in Asia and has tightened curbs to prevent the spread of the more infectious Delta variant.
Roque said the Department of Public Works and Highways (DPWH) was busy clearing debris and landslides from roads in the provinces.
"Some houses were flooded up to the roof," Oriental Mindoro Gov. Humerlito Dolor told dzMM radio.
In some parts of Metro Manila, floodwaters, in places waist-deep, cut off roads to light vehicles.
The Metropolitan Manila Development Authority (MMDA) reported gutter-deep flooding along EDSA, particularly on the northbound lane of EDSA Shrine, northbound of EDSA Ortigas, southbound of EDSA POEA and in the tunnel at EDSA Pasong Tamo.
Parts of Elliptical Road, Quezon Ave., Araneta Ave., Amoranto in Quezon City were also heavily flooded. Heavy flooding was also reported in the Zapote Junction in Las Piñas.
In Makati City, waist-deep flood was reported Friday night along Magallanes service road. Flooding was also reported along Roxas Boulevard, particularly the stretch between Pedro Gil and Quirino.
Several streets in Taguig City became impassable to light vehicles due to flooding.
Waist-deep flood was reported along Maranao and Rugah Streets in Barangay Maharlika Village; and on Sahing, Eucalyptus, PLNR, Katipunan, Sampaguita and Dalanghita Streets in Barangay West Bicutan.
Knee-deep flood was reported along Pindaton Street in Barangay Maharlika Village; J. Ramos and JBL Streets in Barangay Ibayo Tipas; Ally Street and Sapang Bejo in Barangay Ligid Tipas; and Bautista, Navarro, Victoria Streets in Brgy. San Miguel.
The city government earlier advised motorists to avoid Bagong Sikat in Barangay Sta. Ana where flood 21 inches deep was reported. In Barangay Bambang, 15-inch deep flood was reported.
Amid heavy rain, a water tank owned by Prime Water inside a village in Caloocan City collapsed at dawn yesterday, leaving two people injured and five houses and 10 cars damaged along Lilac Street in Palmera Springs Phase 1 village in Barangay 175.
One of the injured, Arnold Ongchanco, recalled seeing the water tank "explode."
The heavy downpour also forced the Caloocan City government to cancel the scheduled COVID-19 vaccination yesterday. Only those already at vaccination sites early morning were given jabs.
The Philippine Coast Guard, meanwhile, rescued 200 families or nearly 600 residents in Cavite from fast rising floodwaters in Naic and Noveleta, Cavite yesterday.
In a statement, the PCG said its personnel rescued 99 families or 359 residents of Barangay Bucana Sasahan, Naic, Cavite after they got trapped in their homes due to rising floodwaters.
The PCG also said 334 residents rescued were brought to the Bucana Sasahan Elementary School at Pueblo Del Mar National High School while six families or 25 residents were brought to the Barangay Hall of Bucana Malaki, Naic.
PCG also reported rescuing 88 families or 234 residents of Ternate and Noveleta, Cavite. – Ralph Villanueva, Robertzon Ramirez, Ghio Ong, Janvic Mateo, Ric Sapnu, Ramon Efren Lazaro, Emmanuel Tupas