With all 96 passengers accounted for, Sulu plane crash death toll now at 50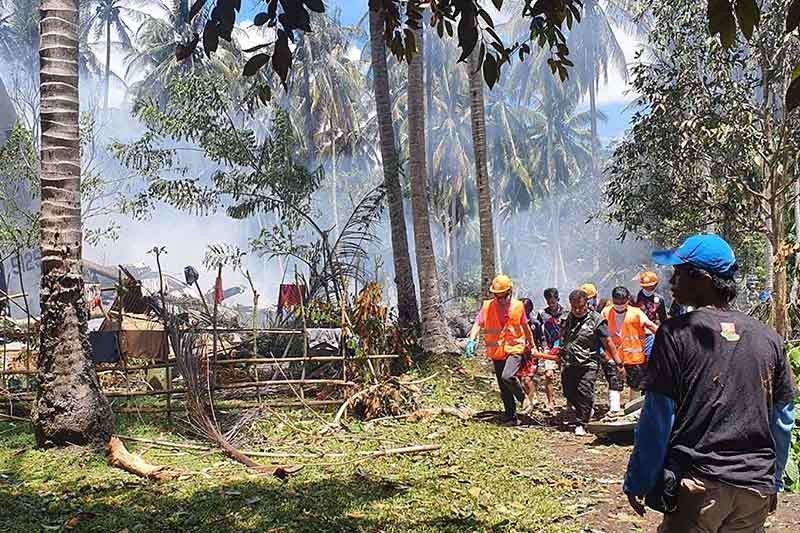 MANILA, Philippines (Update 2, 1:11 p.m.) — The number of fatalities in the military plane crash in Patikul, Sulu increased to 50 on Monday morning as authorities concluded the search for five missing individuals and shifted to retrieval of aircraft parts.
The crash left 47 military personnel aboard the C-130 Hercules transport plane and three civilians on the ground dead, Major Gen. Edgard Arevalo, spokesperson of the Armed Forces of the Philippines, said in an interview with dzMM Teleradyo.
Forty-nine soldiers and four civilians were injured, Arevalo added. As of Monday morning, all 96 soldiers and crew who were aboard have been accounted for.
The Philippine Air Force plane crashed in the town of Patikul and burst into flames Sunday after missing the runway while trying to land.
The AFP official said the challenge is to identify the fatalities because the remains are "charred."
"We are assuring they are going to receive the necessary support and assistance that they deserve," Arevalo said in a separate press briefing.
Most of the passengers of the plane had recently graduated from basic military training and were being deployed to the restive island.
"They were supposed to serve under the 11th Infantry Division in Sulu… They were supposed to augment forces there," Arevalo said in Filipino, adding an investigation team is on its way to the province.
'Tip-top' condition
Arevalo said that while the aircraft was not brand new, it was in a "very good situation."
The second-hand plane was acquired from the United States and delivered to the Philippines in January this year.
"There is no truth to rumor this aircraft is defective. It's in tip-top shape and the pilots are all rated, seasoned and experienced in flying this kind of aircraft," he said.
Authorities are now conducting retrieval operations for the parts of the military plane, particularly the flight recorder or "black box".
"We are interested as our kababayans to determine what happened. This is not just about taxpayers' money. This is about lives and property of people that we all hold dear, that we consider primary assets and resource in our armed forces," Arevalo said.
C-130s have been the workhorses of the Philippine Air Force for decades. The aircraft has been used to transport troops and supplies, and to deliver humanitarian assistance and disaster relief.
The Sulu crash follows a training mishap in late June where a Black Hawk helicopter crashed during a night flight, killing six people on board. — Gaea Katreena Cabico with report from Agence France Presse
As It Happens
LATEST UPDATE: July 16, 2021 - 6:45pm
Follow this thread for updates on search and rescue operations and other updates on the Philippine Air Force C-130 that crashed near Jolo, Sulu on July 4, 2021.
Photo: In this handout photo taken on July 4, 2021 and received from the Philippine military Joint Task Force-Sulu (JTF-Sulu), smoke billows from the wreckage of a Philippine Airforce C-130 transport plane after it crashed near the airport in Jolo town, Sulu province on the southern island of Mindanao.
July 16, 2021 - 6:45pm
The widow of Sulu plane crash fatality Cpl. Reynel Matundin is ranting over what is for her slow process in identifying the remains of her husband.
Annie Matundin, a resident of Kabacan town in North Cotabato, tells Catholic Station dxND here Friday that it was only yesterday that police forensic experts sent to Manila the DNA samples collected from her husband's parents and the victim's dental records for evaluation.
"It's almost two weeks now since that plane crash happened. We don't know what's next. We are so anxious and sometimes we in the family get so depressed," she says.
— The STAR/John Unson
July 7, 2021 - 3:55pm
The Armed Forces of the Philippines names 19 of the 49 military personnel who died in the C-130 plane crash in Patikul, Sulu last Sunday.
Philippine Air Force
Major Emmanuel Makalintal
Major Michael Vincent Benolerao
First Lieutenant Joseph Hintay
Technical Sergeant Mark Anthony Agana
Technical Sergeant Donald Badoy
Staff Sergeant Jan Neil Macapaz
Staff Sergeant Michael Bulalaque
Sergeant Jack Navarro
AFP Medical Corps
AFP Nurse Corps
First Lieutenant Sheena Alexandria Tato
Philippine Army
Sergeant Butch Maestro
Private First Class Christopher Rollon
Private First Class Felixzalday Provido
Private Raymar Carmona
Private Vic Monera
Private Mark Nash Lumanta
Private Jomar Gabas
Private Marcelino Alquisar
Private Mel Mark Angana
July 5, 2021 - 7:23pm
As of 6 p.m. Monday, the number of fatalities from the Sulu plane crash has risen to 52.
The military says among the fatalities, 49 were military personnel while three were civilians.
The military also raised the number of injured to 51, 47 of which are military personnel while four are civilians.
July 5, 2021 - 2:13pm
Sen. Risa Hontiveros condoles with the families of those killed in the C-130 crash in Sulu, saying "their sacrifice and bravery to secure our freedom will never be forgotten."
She also calls for a thorough investigation to ensure "the protection of our brave men and women in uniform in their future deployments."
"Considering this is the second plane crash in two weeks, is a disservice to our armed services if we leave them vulnerable in battle."
July 5, 2021 - 1:17pm
The number of fatalities in Sunday's Air Force plane crash in Sulu climbs to 50, Philippine military officials confirm.
Forty-seven military personnel and three civilians were among those who were killed when a C-130 cargo plane crashed in Patikul, Sulu.
Meanwhile, 49 soldiers and four civilians are injured and undergoing treatment.