Noynoy Aquino, 15th Philippine president, dead at 61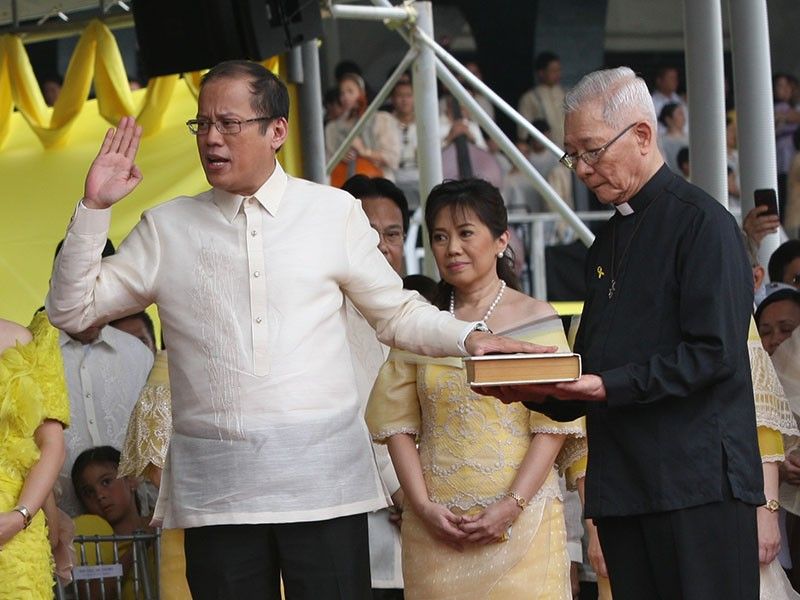 MANILA, Philippines (Corrected, June 29) — Benigno "Noynoy" Aquino III, the fifteenth president of the Philippines, died on Thursday, June 24, sources confirmed. He was 61.
Aquino, the son of democracy icons Ninoy and Cory Aquino, died this morning. He was rushed to the Capitol Medical Center in Quezon City.
In a chance interview with reporters outside the hospital, lawyer Abigail Valte, Aquino's representative and his former deputy spokesperson, refused to give details but said the family will issue an official statement later.
He took the oath of office to become the 15th president of the Philippines on June 30, 2010, succeeding Gloria Macapagal Arroyo. He mounted his candidacy shortly after the death of his mother in 2009 as Liberal Party's presidential candidate.
Aquino was born on Feb. 8, 1960, the only son of political leader and his namesake Benigno Simeon Aquino Jr. and Corazon Aquino, who was president after the EDSA Revolution toppled the Marcos dictatorship.
Sen. Manuel "Mar" Roxas II, the expected standard-bearer for the Liberal Party at the time, said he would make the "supreme sacrifice" and give way.
'Daang Matuwid'
He ran on a "Daang Matuwid" (straight and righteous path) platform, and vowed he would eradicate corruption, elevate the people living at the margins of society and instill transparency in governance.
In his inaugural address, Aquino announced his "no wang-wang" policy, which discouraged the use of emergency sirens vehicles on the road. The policy was seen as a sign that there would be no special treatment for politicians and officials during his presidency.
In the same speech, delivered in Filipino, Aquino uttered his famous lines: "Kayo ang boss ko."
Throughout his presidency, Aquino had used Filipino in most of his public addresses.
An economist by education, Aquino launched ambitious infrastructure projects under Private-Public Partnerships. Under his term, the tourism department launched the "It's More Fun in the Philippines" campaign to promote tourism and boost the economy.
It was during his term when the Philippines bagged its first investment grade rating, thanks to his fiscal management that tightened spending rules to curb corruption, reduced government debt and narrowed the budget deficit. But it was the same fiscal tightening that was blamed for chronic undespending during his time, which his critics said resulted in lost economic opportunities. Still, gross domestic product expanded at an average of 6.2% during Aquino's entire term, with growth even topping 7% for two years.
During his presidency, the Philippines brought China to the international court over dispute in the West Philippines. The arbitral tribunal handed down its historic ruling in July 2016, a month after Aquino's term ended.
Aquino also secured a last-minute reprieve for trafficking victim Mary Jane Veloso from the death row in Indonesia in 2016.
Crises
Two months from his presidency, Aquino faced an early crisis after a disgruntled former cop hijacked a tourist bus carrying tourists from Hong Kong where eight people died.
In January 2015, the state launched Oplan Exodus to neutralize Malaysian terrorist Zulkifli bin Hir alias "Marwan" and Filipino bomb maker Abdul Basit Usman. Marwan was killed in the police commando operation but poor planning led to a firefight with armed groups as the police were leaving the area.
The clash resulted in the deaths of over 60 people, including 44 members of the police Special Action Force. Usman was killed in a follow-up operation in May of that year.
RELATED: Aquino breaks silence, denies US hand in Mamasapano
During his administration, Aquino introduced the Disbursement Acceleration Program, a stimulus package, designed to fast-track public spending and push economic growth, but this was ultimately struck down as unconstitutional by the Supreme Court.
The Priority Development Assistance Fund, a mechanism introduced during the presidency of Joseph Ejercito Estrada that gave lawmakers post-enactment authority over project funds, also came under intense scrutiny. The Aquino administration initiated investigations and the filing of charges against lawmakers and members of their staff allegedly involved in funneling development funds into bogus foundations.
Criticisms were also levelled on the government's response to Super Typhoon Yolanda (Haiyan) in 2013.
While the Aquino administration later on bannered change as platform, this was the very same platform that his eventual predecessor and current President Rodrigo Duterte used in his campaign.
Aquino served as representative of Tarlac from 11th to 13th Congress, from 1998-2007. He then ran for senator in the 2007 midterm elections and won. He served the upper house for three years before gunning for the presidency.
At the Senate, he sat as chairman of the committee on local government and as vice chairman of the committee on justice and human rights.
Aquino is survived by his sisters, Kris Aquino, Victoria Elisa Aquino-Dee, Ballsy Aquino-Cruz and Pinky Aquino-Abellada.
(ERRATUM: The portion of this article related to the 2015 Mamasapano clash originally referred to it as a failed operation. This has been corrected and we apologize for the oversight.
Despite the high casualties in Oplan Exodus, the Philippine National Police-Special Action Force operation in Mamasapano in Maguindanao, the police made clear in 2015 that the mission was considered a success because Marwan, one of the targets of the operation was neutralized.

A paragraph on the Priority Development Assistance Fund has also been rewritten to reflect that PDAF was introduced during the Estrada presidency.)