Eleazar: No immediate arrest of barangay captains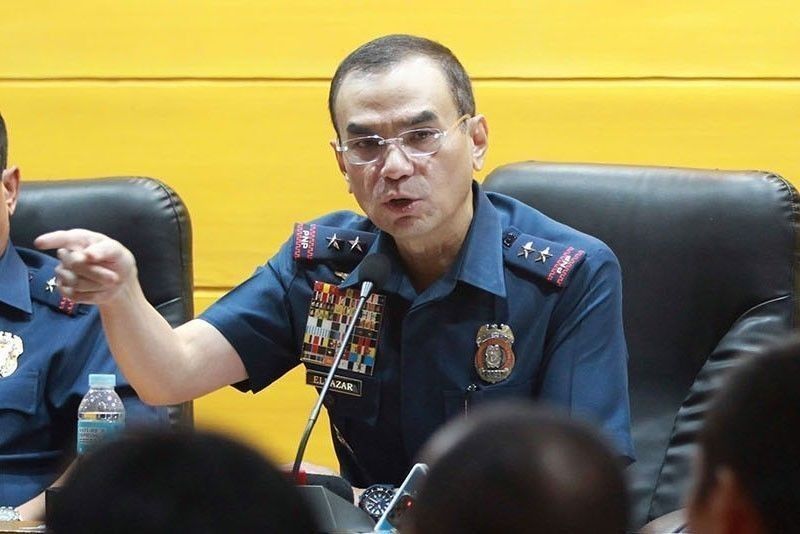 MANILA, Philippines — There will be no immediate arrest for barangay captains who fail to prevent mass gatherings in their areas, Philippine National Police (PNP) chief Gen. Guillermo Eleazar said yesterday.
"If there is evidence, file a case, and when the warrant arrives, that is the time to arrest them," Eleazar said in Filipino over CNN Philippines.
Eleazar cited the breach of public health protocols at the Gubat sa Ciudad resort in Caloocan, wherein the barangay captain faced criminal charges and was suspended for 60 days. In Calamba, Laguna, Barangay Canlubang chairman Larry Dimayuga was recently arrested for holding an illegal cockfighting game.
"If there is an ongoing mass gathering and the barangay chairman is there, he can be arrested," Eleazar said, explaining the merits for warrantless arrests.
He said police officers can invite barangay captains for questioning to determine the actions they have taken. He expressed confidence that barangay officials will work harder to prevent mass gatherings after President Duterte's warning.
"It's good that they are aware of the warning from our President. If they cannot do what is expected of them, they can be held accountable," he said.
Intensify enforcement
Department of the Interior and Local Government (DILG) Secretary Eduardo Año urged barangay captains to step up and intensify the enforcement of minimum health standards in their communities.
The department is set to release a memorandum circular assigning more tasks to barangay executives, giving barangays the green light to regularly inspect sports, recreation and leisure activities, as well as regulate and prohibit any public gatherings such as drinking, sabong, tupada, fiestas, parades and other events.
"The reality is violations on minimum public health standards and super spreaders happen in barangays under our punong barangays. Assigning them added responsibility will give them extra leverage to police their kabarangays and to counter any super spreader event that may happen," Año said in a statement.
The memo will empower barangay officials to establish Barangay COVID-19 Operations Center and Barangay Tanod Health Patrols or Barangay Disiplina Brigades, as well as a hotline number for the reporting of mass gatherings.
The DILG also tasked the 42,046 barangays to support the national government's vaccination program through an information campaign aimed at generating vaccine demand and confidence. – Romina Cabrera