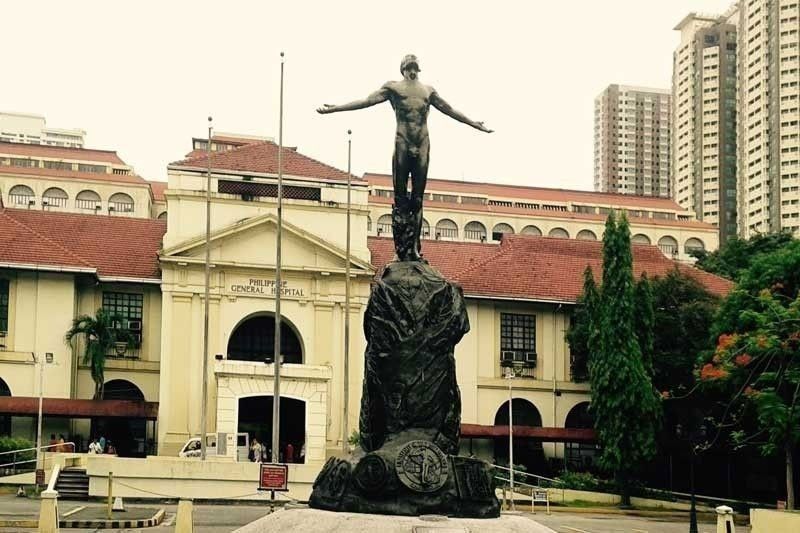 This undated file photo shows the Philippine General Hospital in Manila
STAR/File
PGH reopens ER, accepts COVID-19 patients
MANILA, Philippines — Following the fire early Sunday that damaged part of its main building, the Philippine General Hospital (PGH) including its emergency room will resume admission of COVID-19 patients today.
PGH director Dr. Gerardo Legaspi said at a public briefing yesterday that 500 patients, including babies and those with COVID, had to be evacuated when fire of still undetermined origin broke out early Sunday morning.
Affected patients are back at designated areas in the hospital while others were referred to other hospitals, particularly Ospital ng Santa Ana, he said.
The hospital's emergency room will also resume operations today. It was temporarily closed because it was where some patients were evacuated during the fire.
"The emergency room will reopen but we'll check first which type of patients it can accommodate," Legaspi said.
He stressed that proper health protocols were observed during the evacuation of COVID patients to prevent transmission.
But the fire has significantly affected the PGH's capacity to provide surgical procedures because some of the equipment essential to surgery have been damaged. He estimated the damage caused by the fire could reach P50 million.
The hospital will undergo reconstruction and Legaspi said it would take three to four months before the hospital can resume normal operations.
At a virtual briefing yesterday, Health Undersecretary Maria Rosario Vergeire said the Department of Health (DOH) has extended necessary assistance to PGH.
The DOH, she said, assisted the PGH in the transfer of some patients to another medical facility.
Vergeire said the DOH is also coordinating with concerned government agencies in monitoring hospitals to prevent a similar accident.
Malacañang said President Duterte is ready to provide assistance to the premier government hospital.
Presidential spokesman Harry Roque said President Duterte previously offered P100 million a month to PGH because he knows that the poor prefer the state-run hospital for their medical needs.
However, the hospital has a limited absorptive capacity and can only use P25 million a month, he added.
"If you need it, just tell us because he offered a huge amount before. The presidential social fund can be tapped for the repairs," Roque told Legaspi at a press briefing.
"Ask and you shall receive. You know that the President is ready to provide the needs of the PGH through his presidential social fund. You just have to designate a representative," he added.
Roque also urged the public to report those who are red-tagging the University of the Philippines Office of the Student Regent and youth group Tulong Kabataan, which have organized a donation campaign for PGH.
"UP-PGH is part of the UP system so it's only logical that the UP Student Regent...will seek donations. Just inform me about those who are red-tagging them and we will call their attention," the Palace spokesman said.
Sen. Leila de Lima, meanwhile, appealed to the public to offer help for the sick babies at PGH.
"They are currently seeking donated breast milk for remaining babies at PGH and for those transferred to other hospitals, as well as items such as diapers, wet wipes and diaper rash cream. For cash donations, people can donate to PGH Medical Foundation," De Lima said.
De Lima also commended nurses and other health care workers for showing courage when they safely evacuated 35 babies during the fire.
She specifically cited two nurses who showed genuine love for infants under their care when they did not hesitate to go back to the Neonatal Intensive Care Unit (NICU) to rescue the babies on ventilators.
"Nurses Kathrina and Jomar of PGH, along with other health care workers, are blessings to the 35 babies, their families and the medical community. Because of them, 35 babies in need of immediate medical attention were saved from danger," she said, referring to nurses Kathrina Bianca Macababbad and Jomar Mallari. – Marc Jayson Cayabyab, Alexis Romero, Cecille Suerte Felipe