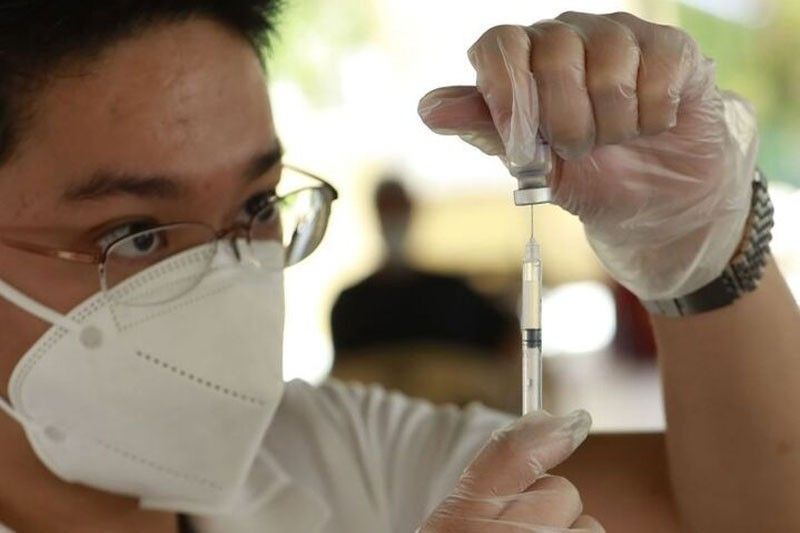 A health worker extracts Sinovac vaccine during the continuation of vaccination program for A1 to A3 priority groups at Old Balara Elementary school turned vaccination site in Quezon City on Monday, May 03, 2021.
The STAR/Michael Varcas
Vaccine priority pushed for NCR, high-risk areas
MANILA, Philippines — To prevent a further surge of infections, the National Task Force against COVID-19 (NTF) intends to prioritize infection hotspots for COVID-19 vaccination, even as the government braces for possible delays in vaccine delivery because of tight global supply.
"Mr. President, considering we will have what is called falloff or shortfall in terms of supply, we are recommending a prioritization. Meaning, let's look at the areas with economic and social importance. We would have a problem if we don't act on them, especially National Capital Region (NCR)," NTF chief implementer and vaccine czar Carlito Galvez Jr. said during the government's pandemic task force meeting last Monday.
"Instead of concentrating on the 110 (million) population, we have to concentrate only (on) 83 million population. And then if we (achieve) the 70 percent or the herd immunity in these areas, there's a huge chance that we can recover our economy and we prevent a surge in traditional areas that are very vulnerable," he added.
Priority areas in Luzon are Metro Manila and six nearby provinces, as well as Calabarzon, Central Luzon, Baguio City, Cordillera Administrative Region and Cagayan Valley.
In the Visayas, priority areas are Metro Cebu City, Bacolod City, Iloilo City, Central Visayas, Western Visayas and Eastern Visayas, while in Mindanao, the list is topped by Cagayan de Oro City, Davao City, Zamboanga City, General Santos City, Iligan City, Davao region, Zamboanga peninsula and Northern Mindanao.
Herd immunity Galvez said that under the prioritization strategy, the Philippines can attain herd immunity with the vaccination of 50 to 70 million people. This can be achieved if 500,000 jabs are administered per day or at least three million jabs per week, supplied with at least 15 million vaccine doses per month, rolled out in 5,000 vaccination sites manned by 25,000 to 50,000 vaccinators.
"We can have the herd immunity in NCR and the plus six provinces around NCR by November; that's what we are looking at, 180 days. But our target for the others is we will scale up to 213 days with more or less, with the same productivity. Our target in NCR is 120,000 a day; but in our national target, 500,000 jabs a day. Our target timeline is 200 to 213 days starting June," he said.
Galvez admitted 30 million vaccine doses from India may be delayed while the arrival of COVID-19 jabs from Novavax may be moved to September because of surging cases in India.
Last Monday, President Duterte thanked the Russian government for the delivery of the first batch of Sputnik V COVID-19 vaccines.
Yesterday, at the Sta. Ana hospital, the Manila city government started vaccinating medical frontliners using the Russian-made jabs.
Vice Mayor Honey Lacuna-Pangan said medical frontliners would be jabbed first, followed by other priority groups. About 59 medical frontliners have already been vaccinated using Sputnik V.
In Parañaque City, the Sputnik V vaccine rollout was met with increased confidence by residents, Mayor Edwin Olivarez said. More than a thousand individuals received Russian-made jabs at the Parañaque City mall, days after the city received 3,000 doses of Sputnik V.
Meanwhile, Department of Labor and Employment Undersecretary Benjo Benavidez reiterated that any employee who refuses or fails to be vaccinated shall not be discriminated against in terms of tenure, promotion, training, pay and other benefits.
"No vaccine, no work policy shall not be allowed," the DOLE official stressed. – Jose Rodel Clapano, Mayen Jaymalin