Eleazar: No travel checkpoints within NCR-Plus bubble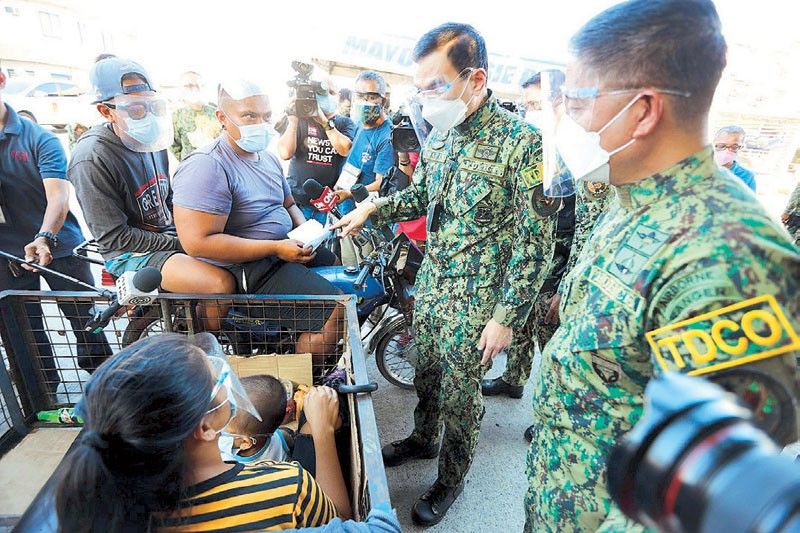 MANILA, Philippines — Residents of Metro Manila and the provinces of Bulacan, Cavite, Laguna and Rizal will no longer undergo inspection for movement restriction at checkpoints within the National Capital Region or NCR-Plus bubble, the Philippine National Police (PNP) said on Monday night.
PNP officer-in-charge Lt. Gen. Guillermo Eleazar said people are free to roam around for essential and non-essential travel as there would be no security checkpoints to hamper their trips within the bubble.
Eleazar said there are no police checkpoints during daytime.
He clarified in an interview with "The Chiefs" on One News/TV5 that there are no boundaries within the bubble.
Eleazar said checkpoints would still be in place to enforce the 10 p.m. to 5 a.m. curfew and ensure public compliance with health protocols.
"Checkpoints within the bubble are still necessary, particularly during curfew hours. Beyond curfew period, they can observe, caution or accost violators of health protocols but will no longer check motorists for movement restriction," he said.
This means that people can visit resorts in the four provinces such as Tagaytay City or Laguna, provided they follow the minimum health standards.
Eleazar said only immediate family members can visit tourist spots as mass gatherings are prohibited.
During the Holy Week, people can visit religious sites but in a limited capacity.
He also asked local government units (LGUs) in the four provinces in the bubble to align their public health safety ordinances with the LGUs in Metro Manila.
Eleazar said there should be uniformity in the ordinances of Bulacan, Cavite, Laguna and Rizal with those being implemented in Metro Manila to avoid confusing the public.
Justice Secretary Menardo Guevarra said while the NCR and four nearby provinces are under general community quarantine, the ordinances passed by the LGUs in these areas would serve as basis in apprehending quarantine violators.
Guevarra said Republic Act 11332 or the Mandatory Reporting on Notifiable Diseases and Health Events of Public Health Concern Act still applies in these areas.
Valenzuela Mayor Rex Gatchalian said there is no need for a police checkpoint between his city and Meycauayan as Metro Manila and Bulacan are in one bubble.
Gatchalian said the implementation of the checkpoint was "half-baked."
Palace defends bubble
Shutting down the economy would spell a disaster for the Philippines, President Duterte said as he defended his decision to tighten restrictions in Metro Manila and nearby provinces to arrest the spread of COVID-19.
Duterte cited the need to strike a balance between efforts to address the pandemic and maintaining economic activity.
"If you close everything, the economy would be placed on the edge. And that's a problem. It will be a disaster for our country," he said. "So balance-balance na lang tayo."
Metro Manila, which contributes a third of the country's economic output, and the provinces of Bulacan, Cavite, Laguna and Rizal will remain under general community quarantine until April 4.
The National Economic and Development Authority (NEDA) defended the government's decision to impose stricter travel restrictions in Metro Manila and nearby provinces to address the rising number of COVID-19 infections.
NEDA acting Secretary Karl Kendrick Chua said around P1.04 trillion or an average of P2.8 billion per day in total income was loss during the pandemic.
He said quarantine restrictions led to an average of annual income loss of P23,000 per worker.
Chua noted that 3.2 million people or 23 percent of the NCR population experienced hunger as a result of the pandemic. There were 506,000 jobless people in Metro Manila.
Meanwhile, Deputy Minority Leader and Marikina Rep. Stella Quimbo said ayuda or cash aid is necessary for quarantine restrictions to be effective in addressing the spike in COVID-19 cases.
Quimbo said there is a need for another round of financial assistance from the government for families and workers under quarantine areas.
The Associated Labor Unions (ALU) sees more workers losing jobs with the implementation of the NCR-Plus bubble.
ALU spokesman Alan Tanjusay said they received reports of employees being asked not to report to work as businesses reduced workforce.
Tourism Secretary Bernadette Romulo-Puyat expressed hope that the travel bubble imposed in Metro Manila and nearby provinces would be lifted as scheduled, saying the tourism sector could no longer bear an extension of stricter quarantine restrictions.
"While we all know that extension of the restrictions in GCQ areas will adversely affect tourism growth, our priority is to ensure the safety and well-being of the public," Puyat told The STAR.
She said tourism activities such as leisure stays in hotels are allowed within the travel bubble.
PAL cancels more flights
Meanwhile, flag carrier Philippine Airlines (PAL) cancelled several domestic flights due to restrictions on non-essential travel in and out of Metro Manila.
The airline suspended Manila-Caticlan flights yesterday. It also cancelled Manila-Cebu and Cebu-Manila flights starting yesterday until April 4.
"All domestic flights to and from Manila will carry only essential travelers, locally stranded individuals, returning overseas Filipinos and other authorized individuals," PAL said. – Alexis Romero, Christina Mendez, Edu Punay, Elijah Rosales, Richmond Mercurio, Mayen Jaymalin, Marc Jayson Cayabyab, Evelyn Macairan