Constitution Framer Joaquin Bernas dies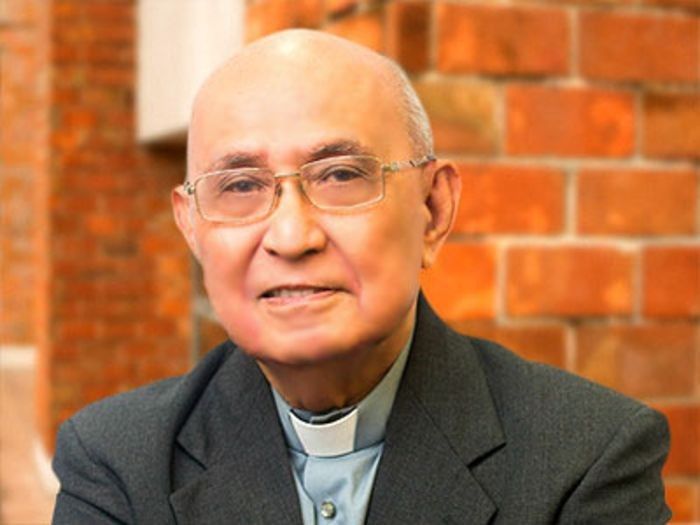 MANILA, Philippines (Update 2, 3:16 p.m.) — Fr. Joaquin Bernas, SJ — one of the framers of the 1987 Constitution — passed away early Saturday.
The Jesuit priest, a lawyer and a noted constitutionalist, was 88 years old.
Bernas' passing was confirmed by Ateneo Law School Dean Jose Maria Hofileña in a memo to the school community.
"We take solace in the knowledge that his was an earthly life filled with meaning and purpose. An earthly life dedicated to service, standards of excellence, to the greater glory of God," Holifeña said.
"He has contributed immeasurably to keeping the Ateneo Law School true to its identity and calling. The Ateneo Law School's debt of gratitude to Fr. Bernas can never truly be fully repaid."
Bernas served as president of the Ateneo de Manila University from 1984 to 1993. He also served as the Dean of the Ateneo Law School twice before retiring in 2004.
Upon his retirement, Bernas was conferred with the position of Dean Emeritus of the Ateneo Law School.
'A nation builder'
Ateneo School of Government Dean Tony La Viña later Wednesday took to Twitter to pay tribute to Bernas, whom he also celebrated as a "bar topnotcher, prolific author and columnist, [and] academic leader."
He further lauded Bernas as an "anti-dictatorship fighter," recalling his role in the EDSA Revolution "as a member of the Convenor Group that chose Cory Aquino to lead the opposition against [late dictator Ferdinand] Marcos in the 1986 elections."
Another death. But for sure, not an ordinary life was lived by Fr Joaquin Bernas SJ, Jesuit, priest, constitutionalIst, lawyer and law professor, bar topnotcher, prolific author and columnist, academic leader (ALS Dean, ADMU President). Thank you Fr Bernie! pic.twitter.com/IO1FnptcwP

— Tony La Viña (@tonylavs) March 6, 2021
La Viña, also a constitutionalist, said Bernas was the first to hire him as a philosophy teacher in Ateneo. "He celebrated many masses I attended in Rockwell, and in his last active years he was a colleague/friend who was always fun to engage with (even in elevators, conversations with him were memorable)."
"Thank you Fr Bernie! Thank you for building this nation through your teaching, writing, political engagement, and leadership in Ateneo de Manila, the Society of Jesus, and the Church! We will give you a long goodbye!"
alacañang has extended its condolences to Bernas' friends and colleagues, lauding him for leaving "a legacy of legal excellence and passion for humanity and the rule of law to the nation."
As of this writing, Sens. Nancy Binay, Sonny Angara and Joel Villanueva have all marked Bernas' passing, with the latter remembering him as "our great constitutionalist, true patriot, and a proud Filipino." — Bella Perez-Rubio