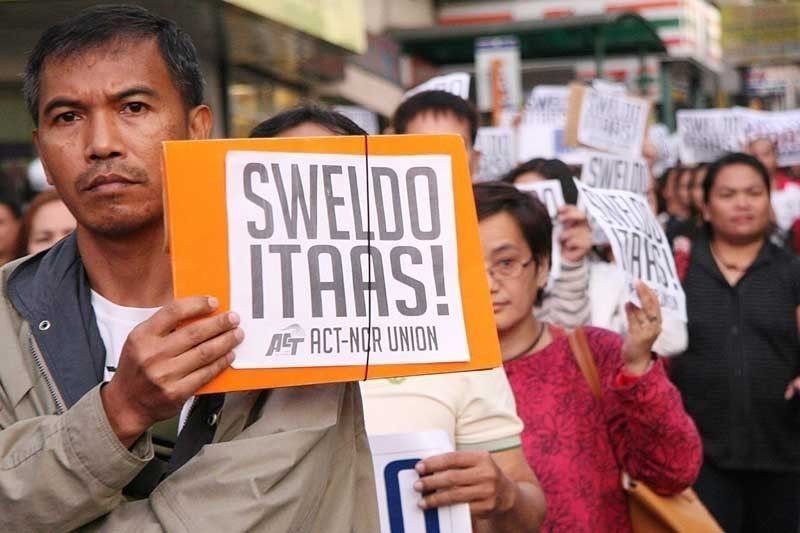 According to the KMU, a pay increase is necessary to enable workers to afford basic necessities.
The STAR/Andy G. Zapata Jr.
Organized labor wants wage hike
MANILA, Philippines — The Kilusang Mayo Uno (KMU) yesterday expressed its intent to file another wage petition to increase the daily take-home pay of workers nationwide amid soaring prices of basic commodities.
According to the KMU, a pay increase is necessary to enable workers to afford basic necessities.
The group also asked Congress to expedite and prioritize the passing of the P750 National Minimum Wage bill.
In a statement, KMU secretary general Jerome Adonis said prices of pork, vegetables and other commodities keep increasing, but the Duterte government is not doing anything to help workers survive.
"Imagine, you are keeping the economy alive, but you don't even know how you will keep your family alive," he said in Filipino.
Adonis stressed that workers deserve the wage hike to survive amid the rising prices of basic commodities and maintain the proper nutrition needed to resist COVID-19 and other illnesses.
Stagnant minimum wage
Adonis noted that the minimum wage in Central Luzon and Southern Tagalog ranges from P400 to P420, while Cebu in Central Visayas has a P404 wage. Davao region's rate is at P396 while the Bangsamoro region's workers receive a minimum of P290 and P325 at most.
The last wage hike granted to Metro Manila minimum wage earners was in November 2018. Labor groups filed a petition for wage increase in 2019, but this was denied.
And due to last year's pandemic, wage boards announced an indefinite deferment of wage hikes.
Solution to rising food prices
Meanwhile, Sen. Imee Marcos called on local government units to promote home gardening as a viable supplement to the limited food budgets of low-income households.
"Since we're for the most part homebound amid this pandemic, home gardening will make productive use of our time and help stretch our marketing budget to include enough meat," Marcos said.
"There's no shortage of seeds waiting to be sown, only people willing to get things done. Whether plot-based or pot-based, growing vegetables and crops typical in home-cooked meals, like malunggay (moringa) cabbage, petchay, sitaw (string beans), tomatoes and potatoes is so easy to do," Marcos said.
"The DA (Department of Agriculture) also needs to ramp up its various programs to help both food producers and consumers to ensure food security like the Plant, Plant, Plant Program (4Ps) and the discounted pricing offered by the Mobile Palengke and Kadiwa ni Ani at Kita," Marcos added. – Cecille Suerte Felipe